If you're able to book a cruise on short notice, pay attention to last-minute cruise deals from all the major cruise lines. We've seen incredible savings from Royal Caribbean, Carnival, Celebrity, Margaritaville, and even Disney. Just a fair warning, cruise prices aren't set in stone and can fluctuate throughout the day, so if you see your perfect bargain getaway, it's best to book ASAP.
Here are the top places to find cheap cruise deals no matter when you're setting sail.
Download The Krazy Coupon Lady app to get the latest coupons and money-saving hacks that'll help fund your next vacation.
Save on luggage with these deals happening now: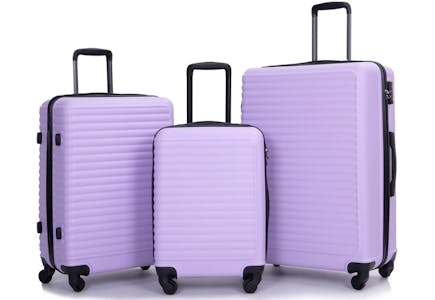 $119.99
$299.99
(60% Off)
Shipping:
Free with Walmart+ or on orders of $35+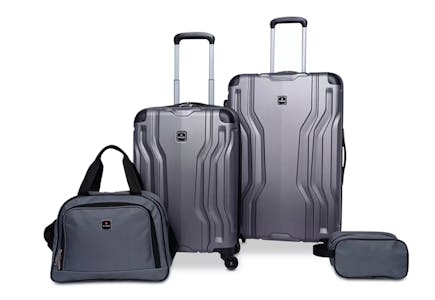 $114.99
$360.00
(68% Off)
Shipping:
Free on orders of $25+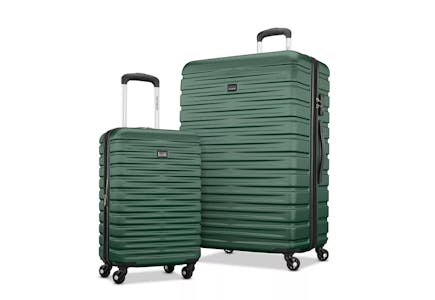 $232.49
$620.00
(63% Off)
Shipping:
Free on orders of $25+
Limited-Time Deal: College students can save 40% on all cruise fares and get $25 onboard credit
College students can save 40% on all cruise fares through Dec. 31, 2023. You'll also receive a $25 onboard credit that you can use on specialty dining, spa services, alcoholic or non-alcoholic drinks, and gift shop purchases. You must verify your eligibility through the XNow platform before booking.
Limited-Time Deal: Save $300 on the Margaritaville at Sea Ultimate Paradise Pass 2024
Right now, you can buy an Ultimate Paradise Pass for $699 (reg $999) and enjoy unlimited sailings through Dec. 31, 2024. This offer is valid for double occupancy, meaning you can bring a friend for free! Here are the details:
Must book your sailings 24 – 72 hours before departure
Blackout dates: Dec. 31, 2023, May 25, 2024, Aug. 30, 2024, and Dec. 31, 2024
Does not include taxes, fees, port expenses, gratuities, fuel surcharges, or onboard expenses of $94.40 per person
Does not include 2023 booking fees of $19.99 (for two guests) per stateroom, per sailing
Does not include 2024 booking fees of $29.99 (for two guests) per stateroom, per Sunday – Wednesday departure and $49.99 (for two guests) Thursday – Sunday departure
Limited-Time Deal: Get up to 50% off Princess Cruises & 50% off Deposits
Get up to 50% off 2024 & 2025 Princess Cruises to destinations, including Australia, Mexico, the Caribbean, Europe, and Alaska. Plus, get 3rd and 4th guests free. Here are a few deals I found:
1. Book a Margaritaville cruise with a BOGO free sale.

You can't beat the all-around vacation vibes of the Jimmy Buffett Margaritaville franchise, and now the brand has cruises, too. Save when you book during limited-time BOGO promotions which offers a buy one, get one free fare for your second guest for sailings. A buy one get one free offer typically applies to a 2-night cruise and is valid for all category staterooms.
Fares are usually pretty reasonable ($85 and up for an interior room). Check the Margaritaville at Sea website for all the latest last-minute deals. They don't include taxes, fees, port expenses, or gratuities in the fares listed on their site, so mentally add about $115 per person to cover those.
Related: You can get a free Margaritaville at Sea cruise if you're a member of the military, police, teacher, or first responder.
2. Check the Royal Caribbean website for 30% off and kid-sail-free perks.
Mega cruise lines like Royal Caribbean usually have some sort of "limited time" deals going on — complete with that anxiety-inducing countdown clock to make you feel like you have to book NOW. But if you visit the deals section of the Royal Caribbean website often, you'll see that their sales actually happen quite often.
Currently, you can get 30% off every cruise. Plus kids sail at no charge with their popular "Royal Caribbean Kids Sail Free" promo. You can also subscribe to their email list to get an easy $50 off your next sailing.
Here's one Royal Caribbean cruise deal I found :
TIP: After you book a Royal Caribbean cruise, look to see if the price drops within 48 hours. If so, call (866) 562-7625 or fill out the online form for the Best Price Guarantee program. You'll get reimbursed the difference in an onboard spending credit or a rate adjustment on your final bill.
3. Book a last-minute Carnival cruise to save 35% – 40%.
Carnival Cruise Line has all sorts of last-minute cruise deals they announce on their website. With their Early Saver Sale, you can get 40% off cruise rates, 50% off deposits, and $50 (or more) in onboard spending credits.
Here's a recent Carnival cruise deal:
4-night Bahamas cruise from Miami, Florida: $229 per person for two guests in an Interior room
Fares don't include taxes, fees, or gratuities, so add about $158 per person (plus gratuities) for the deal above. But it's still an awesome price when you consider that it includes the room, entertainment, and all meals.
TIP: If you book a Carnival cruise far enough in advance (90+ days before sailing), you can apply for financing through Uplift with no money down and 0% APR for up to 18 months. Check the Carnival site to see if you qualify.
4. Use the '90-Day Cruise Ticker' on VacationsToGo.com to save up to 90%.
The site isn't much to look at aesthetically, but the deals shared on Vacations To Go's 90-Day Ticker are legit (you'll need to sign up for a free VacationsToGo.com account in order to access it). The site brings together last-minute cruise deals from all the major cruise lines. You'll have to act fast if you see anything good — many of the offers sell out in minutes.
By default, the list of markdowns is organized by sailing date, but you can also sort the list by departure port, number of nights, ship rating, price, or percentage off. They also tell you whether or not proof of vaccination is required.
Here's one amazing Alaska cruise deal we found recently on the 90-day ticker:
7-night Norwegian cruise aboard Norwegian / Norwegian Bliss from Seattle, WA: $348 per person, for two guests in an Interior room (reg. $6,884) — that's 90% off!
TIP: Sign up for the free Vacations To Go Cruise Newsletter to get the deals sent to your email inbox every week.
5. Book cruises through Costco Travel to earn 2% cash back and free Costco Shop Cards.
As if we all needed another reason to love Costco, they have nice perks for cruisers, too. You can find deals on their website from all the major cruise lines, including Carnival, Celebrity, Disney Cruise Line, Princess, Royal Caribbean, and more.
While anyone can browse Costco's cruise deals, you have to be a member to actually book one. If you reserve through Costco Travel or transfer an existing cruise reservation over to Costco, you'll get a free Costco Shop Card (their version of a gift card) that you'll get within four to six weeks after you return. The amount of the gift card depends on the amount you spend.
If you're a Costco Executive member, you'll also earn 2% cash back on all your travel purchases, including cruise bookings.
Here's an example of the benefits of booking a 3-night Disney Wish cruise to the Bahamas from Port Canaveral, Florida, with Costco Travel:
$3,413.68 total, including taxes and fees, for two adults and two children in an Interior room (this is the same price as booking directly through Disney)
Free Costco Shop Card: $260
2% Cash Back for Executive Members: $68.27
That comes out to $328.27 back in your pocket just by booking through Costco.
Related: Did you know you don't have to be a Costco member to go on a vacation booked through Costco Travel? Learn how it works.
6. Hunt for Disney cruise deals on their Special Offers page to save up to 35%.
Let's be honest — it's almost impossible to find deals on Disney cruises, especially if you're booking at the last minute. But if you're determined to find a deal, you're going to need to start checking their Special Offers page religiously.
Here are some Disney special offers you might see throughout the year:
35% off select European cruises
"Children Sail Free" promotions
$300 statement credit for new Disney Premier Visa card members
Free dining offers (typically in September, November, and December)
Play, Stay, Dine & Save discounts (usually offered in the spring)
Related: See more of our best strategies to save on Disney cruises.
7. Black Friday cruise deals and Cyber Monday sales will save you 30% or more.
Hunting down the best Black Friday sales and Cyber Monday deals is kinda our jam, and we tend to see some big savings on cruises in the days after Thanksgiving.
You'll want to look closely at the fine print of any deals you see and also weigh their overall value. Getting free onboard Wi-Fi may sound like a good perk, but in most cases, it's only going to save you about $15 – $30 a day.
Here are the Black Friday cruise deals for 2023:
Royal Caribbean: 30% off every guest and up to $700 in savings per stateroom (kids sail free)
Celebrity: 75% off the second guest in a stateroom and up to $600 per stateroom
Princess: Up to 50% off fares + 3rd, 4th guests are free
Norwegian: 50% off all cruises + free airfare, unlimited open bar, specialty dining, excursions, wifi, 3rd and 4th guests
MSC Cruises: Free drinks, free Wi-Fi, up to $500 in onboard spending credit, plus kids sail free
8. Wait for 'Kids Sail Free' promotions from Princess, Royal Caribbean, and more.
If you're traveling with children or young teens, the "Kids Sail Free" cruise offers are like gold. Most promotions require that your children are booked as your third and fourth guests and stay in the same cabin as you.
The great part? You can combine kids-sail-free offers with other discounts and savings.
Here are the cruise lines that offer kids-sail-free promotions at various times during the year:
MSC Cruises: ages two and under ALWAYS sail free; ages 18 and under sail free during special promotions
Princess: ages 17 and under sail free during special promotions
Royal Caribbean: ages 12 and under sail free during special promotions
Norwegian: third and fourth guests sail free during special promotions
Disney: third and fourth guests sail free during special (rare) promotions
TIP: If you're a Disney Plus subscriber, cash in on this Disney cruise deal through April 2023.
9. Repositioning cruise deals (aka one-way cruises) can save you up to 73%.
At the end of a season, many cruise lines have to relocate their ships to another port in a better climate. Rather than making the trip without passengers, they make it a bookable journey and call it a one-way repositioning cruise. If you're okay with starting and ending your cruise in a totally different place, you'll often be able to sail for less per day than you would with the normal itinerary.
Although searching for repositioning cruises can be a challenge, RepositioningCruise.com makes finding them fairly easy. You can book months in advance on several cruise lines; however, you can find last-minute deals that can save you up to almost 90%.
We found a 20-night cruise from San Francisco, California, to Auckland, New Zealand, aboard the Princess/Grand Princess for $881 per person (regularly $3,249) for two people in an oceanview suite. That's a savings of 73%! Just budget some extra money for your flight back home.
One-way cruise deals for December 2023:
TIP: Looking for airfare deals? We found out exactly when to book your flight to save the most money.
10. Shop AAA cruise deals to lock in member savings and freebies.
AAA is more than a roadside assistance service. Yes, you can find some last-minute cruise deals with AAA, but you'll need a valid membership to book.
We recently found a 3-night Royal Caribbean cruise to Ensenada, Baja California, from Los Angeles for $299 per person in an interior stateroom. After fees and taxes, the total was $994.41, which came out to a savings of 30% off the regular price. The AAA offer also included several amenities:
Complimentary bottle of sparkling wine
Free welcome fruit basket
$25 onboard credit
11. Norwegian cruise deals and off-season discounts can save you 40% – 70%.
Look for Norwegian Cruise Line's current deals for cheap last-minute deals that'll save you up to 40% on regular prices.
They have a range of ever-changing promotions, including sales like their "Free at Sea" promotion which you can find right now. You can also book Free at Sea promotions throughout the year, most notably during the Labor Day sale, when you could get 40% off all cruises, plus your third and fourth guests cruised for free. The other "Free at Sea" goodies were a free open bar, free specialty dining, free Wi-Fi, and free excursions.
If you can wait to book a cruise until the off-season, you might get an even better deal. In January 2023, Norwegian's offers during their New Year's Sale included 50% off all cruises plus free add-ons worth up to $4,250:
Open bar
Specialty Dining
Excursions
Wi-Fi
Extra third and fourth guests free
Roundtrip airfare for a second guest
12. Score 75% off a last-minute getaway with Expedia cruise deals.
When you're searching for low-priced cruises, be sure to check ExpediaCruises.com (yes, that Expedia). We found some last-minute cruise deals that came out to 75% off:
3-night Bahama cruise onboard the Carnival Conquest, $293 (reg. $1,064)
4-night Bahama cruise onboard the MSC Seaside, $109 (reg $559)
See more similar deals on Expedia.com.
13. Celebrity cruise deals can save you up to 56%.
We found most last-minute Celebrity cruises depart from places like British Columbia, Spain, and Italy. However, a few "cruise only" specials (not including flights) depart from U.S. locations like Los Angeles, Boston, and Fort Lauderdale. Here's a look at some recent deals:
7-night Pacific Coastal aboard the Celebrity Eclipse from Los Angeles, CA: $2,652 per person (reg $4,244) for inside stateroom. After taxes and fees, the cost is $5,888.54 for two people. (35% savings)
11-night Boston, Maine & Canada aboard the Celebrity Summit from Boston, MA: $2,550 per person (reg $5,664) for an inside stateroom. After taxes and fees, total cost comes out to $5,645.58 for two people. (52% savings)
6-night Bimini, Grand Cayman & Mexico aboard the Celebrity Equinox from Fort Lauderdale, FL: $943 per person (reg $2,372) for an inside stateroom. With taxes and fees, the price is $2,200.42 for two people. (56% savings)
TIP: Going solo? Check out our tips on how you can avoid paying single-occupancy fees.
14. Check CruisePlum for cheap cruise deals that can save you up to 67%.
Want to compare or track current prices on cruises based on options like the cruise line, cabin type, and the number of passengers? If so, CruisePlum.com should be your go-to website, especially the Last Minute Deals page.
Recently using their site, we found an 11-day Azamara cruise on the Azamara Onward from Miami, Florida, to Gran Canaria, Spain for just $583 per person for two people in an interior room. Once you added in all the extras like taxes and port charges, the price came to $697 per person, or a savings of 67% on the regular base fare.
15. Book for as low as $27 per night with Cruise Direct.
You can book a cruise on several cruise lines through Cruise Direct. Destinations include the Pacific coast, the Mediterranean, and the Caribbean. Here's a look at some deals we found recently: