Cyber Monday diaper deals aren't always better than other price drops throughout the year, but you can score some hidden gems if you shop smart. Right now, the Target Cyber Monday sale snags you a $30 Target gift card when you spend $100 on qualifying diapers or wipes. With your 5% Target RedCard discount, this is a great deal to grab on your next Target Run to get Pampers diapers and wipes on sale.
Hello Bello also swooped in with a pretty noteworthy Cyber Monday offer with 40% off bundles. The $69.99 bundles drop to $41.99 with code CYBER40 and diapers drop to as low as $0.19 for size 1 and up to $0.29 per diaper for size 4.
The best strategy to get cheap diapers in November is to stack as many savings elements as possible (like manufacturer coupons, store coupons, cash-back rebates, and store rewards) with Cyber Monday sale prices. Of course, in-store savings opportunities aren't available at every location, so you'll have to do some quick calculations and comparisons to find out where you'll get the lowest price. We've listed out some current Ibotta offers and you can find our best diaper coupons updated every day.
For more smart shopping tips and savings hacks, text HACKS to 57299. Or download the Krazy Coupon Lady app.
Cyber Monday Diaper Deals We're Seeing Right Now
These are some of the diaper deals we're currently seeing. We saw a $15 off $75 promo during the Amazon Black Friday sale, but that has since expired. Right now, the Hello Bello 40% off and the Target $15 coupon gets you some of the best per-diaper prices.
PRICE SUMMARY
Includes 7 packs of diapers, 4 packs of wipes, plus freebie (up to $11.99)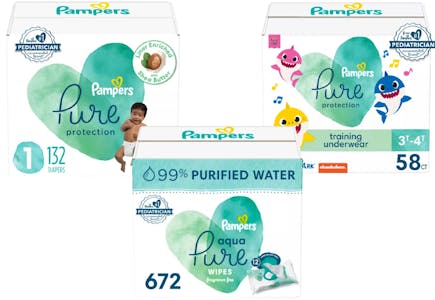 As low as
$74.07
$107.97
(31% Off)
Spend $100, receive $30 Target GiftCard
MOBILE COUPONS NEEDED
PRICE SUMMARY
Pay $104.07, receive $30 Target GiftCard
As low as
$90.22
$124.97
(28% Off)
Spend $100, receive $30 Target GiftCard
MOBILE COUPONS NEEDED
PRICE SUMMARY
Pay $120.22, receive $30 Target GiftCard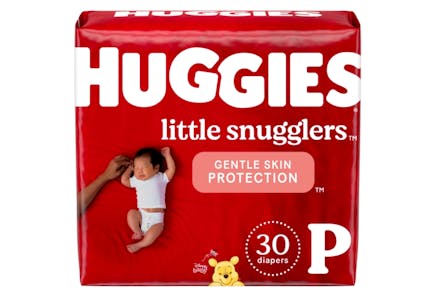 MOBILE COUPONS NEEDED
Pickup:
Free on orders of $35+
Where can I find the best Black Friday diaper deals in 2023?
The best places for Black Friday diaper deals are Amazon, Target, Walmart, and drugstores.
Target has been one of the few major retailers to include diaper deals in their Black Friday ads. They're currently offering a $15 Target gift card with the purchase $75 worth of diapers and wipes, both in-store and online. Plus, don't forget — when you shop at Target you'll save an extra 5% on Black Friday deals when you pay with your Target RedCard (and even more with the right coupons).
Drugstores are also a great place to check for Black Friday diaper deals, mostly because you can combine manufacturer coupons, store coupons, and loyalty rewards to save more on sale prices.
Related: If sale prices just don't cut it for you, check out these easy ways to get free diapers.
Aim to stack diaper coupons and loyalty rewards with Black Friday sale prices.
Stacking coupons on top of sale prices is the best way to save on diapers, especially on Black Friday.
Huggies coupons are available once a week, while Pampers coupons come out about once a month. These are typically manufacturer coupons you can use on Huggies and Pampers diapers from any store that sells them. You can also use store coupons to save more on these brands like the offers CVS and Walgreens put out on a weekly basis.
CVS tends to offer more store coupons on Pampers than Huggies. However, Walgreens offers more deals on Huggies than on Pampers. Of course, you can always count on KCL for the best diaper coupons at any given time.
You can also take advantage of store rewards programs, like CVS ExtraCare and MyWalgreens rewards. These programs give you dollars back on certain items that you can use on future purchases from that store.
Look for diaper rebates on Ibotta to cut Black Friday prices even more.
Your Black Friday savings don't have to stop at coupons. The Ibotta app gives you money back on purchases when you upload your receipts. They usually have cash-back rebates on diapers or on purchases from certain stores.
Here are some of the best Ibotta diaper rebates we're seeing this year:
$5 Back: Huggies select varieties, 40 Count or more, Limit 1 Per Receipt
$5 Back: Ninjamas Nighttime Underwear at Walmart, Any Box (excludes travel/trial size), Limit 1 Per Receipt
$3 Back: Pampers Swaddlers, Cruisers, or Baby Dry Super Packs at Walmart, Limit 1 Per Receipt
Ibotta tends to put out more rebates on Huggies than on Pampers, but it's worth checking for deals on both brands. For more info on how to save with Ibotta rebates, here's exactly how Ibotta works.
Download The Krazy Coupon Lady mobile app and set up deal alerts for diapers. We'll let you know when (and where) a great deal drops so you can grab it ASAP!
More diaper savings tips