Even if you were willing to take out a second mortgage to see Taylor Swift's Eras Tour IRL (no judgment), chances are you couldn't even get your hands on tickets. While you won't be able to scoop up her tour merch, there's a second chance to experience the tour with the Taylor Swift movie, which hit theaters on Friday, Oct. 13. Aptly named Taylor Swift: The Eras Tour, it's a concert film that brings the show into movie theaters.
While this experience is wildly less expensive than actual tour tickets, going to the movies is still really pricey. And, get this, movie theaters know how badly Swifties want in on this particular film. They're charging, on average, 40% more for Taylor Swift movie tickets than they did for the majority of movie releases in 2023.
In fact, you may have read an earlier version of this post, touting our best advice on how to save on Taylor Swift movie tickets. However, now that the movie is actually in theaters, we're learning our previous suggestions (namely seeing it on a Tuesday when the major theater chains offer discounts on tickets) aren't going to work. Why? Because theaters appear to be using their own form of surge pricing on a film they know millions of fans are dying to see. You'll be hard-pressed to even find it for a matinee rate.
We're about to get into the seemingly unfair price differences going on here and why waiting for the movie to stream is your best bet to see it without feeling ripped off. Are you ready for it?
Text HACKS to 57299 for money-saving tips.
The average price of a movie ticket in the U.S. is $11.75. However, a Taylor Swift movie ticket will likely cost you 40% more (at least $16.45).
Yep, that average is in American dollars! If you look across the country, the average movie ticket is $11.75, but if you browse showings of the Taylor Swift movie at your local theater, those tickets are likely to be 40% more. So approximately $16.45 per ticket.
And that's before you account for popcorn (avg. $6.09 for a small) and a drink (avg. $5.09 – $5.29). So right there you're looking at $27.63, and that's if you're hitting the average concession prices, plus 40% on the movie ticket.
However, I got sticker shock at my local AMC on Thursday, Oct. 12, as they're charging $25.89 for a 9:45 p.m. showing. That's 54.6% above the national average movie ticket. No popcorn for moi.
The Taylor Swift movie hits theaters earlier than expected on Oct. 12 (official release date is Oct. 13), ticket prices are out of control.
Previously we regaled you with the benefits of seeing movies on Tuesdays, when the three major theater chains (AMC, Cinemark, and Regal) provide pretty steep discounts on tickets. For example, while a movie at my local AMC typically costs $16.99 (gulp). on Discount Tuesdays as a Stub member, that same ticket is $7, for any movie time that day. That's a 58.8% discount! On top of that, you can get a small fountain drink (or ICEE) and a small popcorn for $5 (plus tax). That brings my total to $12 plus tax and, yes, some convenience fees if you order online (about $2.99).
Unfortunately, the theater chains aren't offering up Taylor on the cheap. Not only are they currently not hosting showings of the Taylor Swift movie on Tuesdays, they aren't offering discounted tickets for matinees of it either. Where's the karma, my Swifties?
If you're a Verizon customer, you can get a $3 AMC gift card through Nov. 15, 2023.
Lately we've been living for the rewards some of the mobile providers are offering. If you have Verizon Up Rewards, you're eligible for a $3 AMC gift card now through Nov. 15. Use it to hack away at those high-price movie tickets. To put it in perspective, let's say you can score a Taylor Swift movie ticket for $16.45, if you use the $3 AMC gift card, that brings it down to $13.45 — an 18.2% discount.
RELATED: October Verizon Up Rewards: $3 Gift Cards & Up to 50% Savings on Products
Or save your money and wait until it's streaming for free — we predict it'll be on Netflix in 2024.
While the Oct. 13 release is in theaters only, we expect The Eras Tour concert film to be available to stream later this fall. There have been no official details stating that the film will be available to stream, but after what we saw with Barbie: The Movie, we think something similar will happen with Taylor. Right now you can stream the Miss Americana documentary and the Reputation Tour film on Netflix, which is why we think this will be coming to Netflix. You can also watch Folklore: The Long Pond Studio Sessions on Disney+.
Since she never chooses any random dates, we initially predicted this film to be available for streaming on her birthday, Dec. 13. In fact, we are so … Ready For It. However, Internet buzz suggests movie theaters want to keep a stronghold on the film through the holidays, and that it won't stream until early 2024.
Make it a streaming party, complete with AMC movie popcorn from Walmart and, of course, friendship bracelets.
Did you know Walmart sells bags of ready-to-eat and boxes of microwave AMC popcorn? Because, yeah, they do. The ready-to-eat bags are $3.98/5.2 oz bag and the microwave popcorn is $4.98 for a 6-ct. box of 2.75 oz. bags at Walmart.
Remember that the average price of a small popcorn is $6.09, so you are definitely coming out ahead with the Walmart offerings, while still getting a whiff of that AMC movie popcorn.
Make it a party (whoever has the biggest TV or room to dance has to host). And definitely swap friendship bracelets. We have some great friendship bracelet kits below that provide everything you need.
If you are willing to pay up to see it in theaters, get ready for the merch (and maybe resell it on eBay for some cash).
All three of the major cinemas — AMC, Regal, and Cinemark — have announced Taylor Swift merch that moviegoers can score when the film releases. Some merch, like the mini posters, are limited to one per customer and only for movie ticket holders. But, the popcorn tubs and cup combos are available even if you aren't seeing the movie. Cinemark has a limit of 10 per customer, so we predict that will be the same at most theatres. Don't know what you'd do with 10 popcorn tubs? Maybe you resell them on eBay for some extra cash (like we saw with Barbie: The Movie merch!). Take a look at this eBay listing for pre-sale tub and cup combos for $125 . . . We don't actually expect they will sell for this much. But we know All Too Well that Swifties will shell out some serious cash for Tay.
AMC Merch

Regal Merch
Cinemark Merch
Swifties are known for trading friendship bracelets at concerts, so make some to bring to the movie.
To really feel like you're in the middle of the action, make some friendship bracelets to wear to the movie. Hopefully, there will be other bracelet-trading Swifties at your showing so you can share.
Here are some friendship bracelet kits on Amazon that we're loving: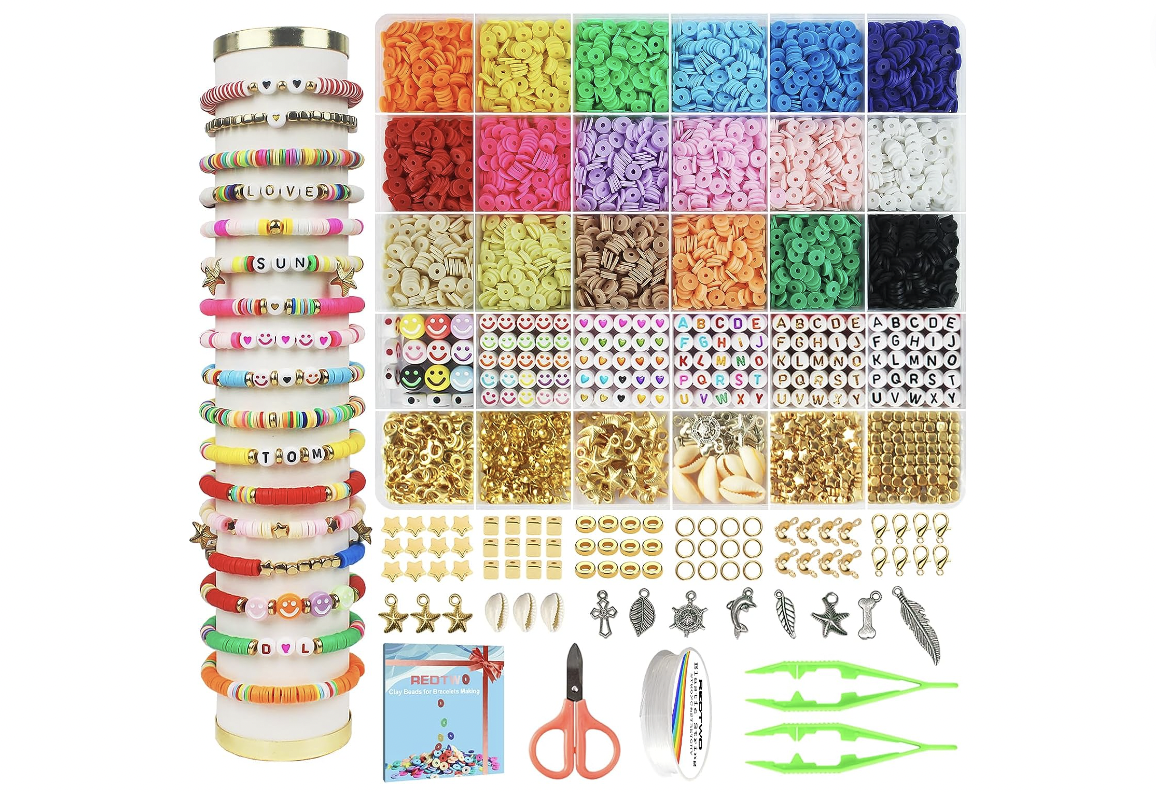 MOBILE COUPONS NEEDED
15% off - Bracelet Making Kit, Amazon Coupon, Limit 1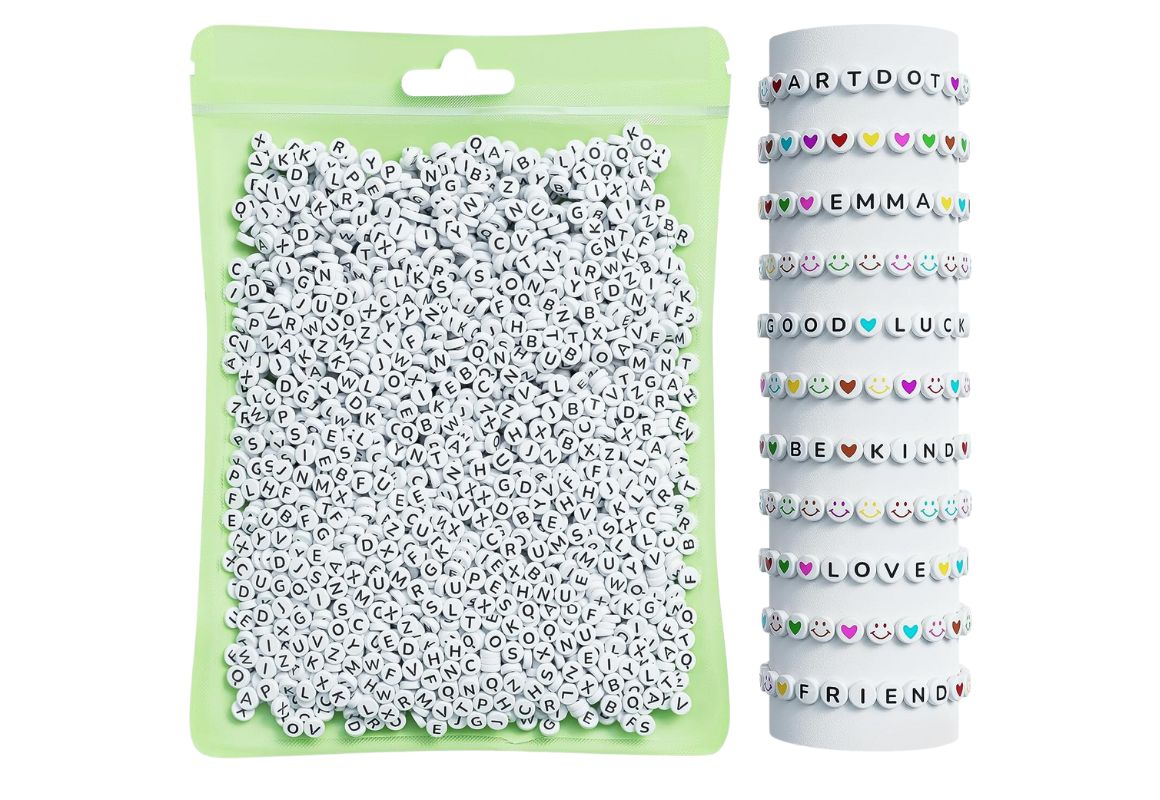 MOBILE COUPONS NEEDED
20% Off - Letter Beads Kit 800-Pieces, Amazon Coupon, Limit 1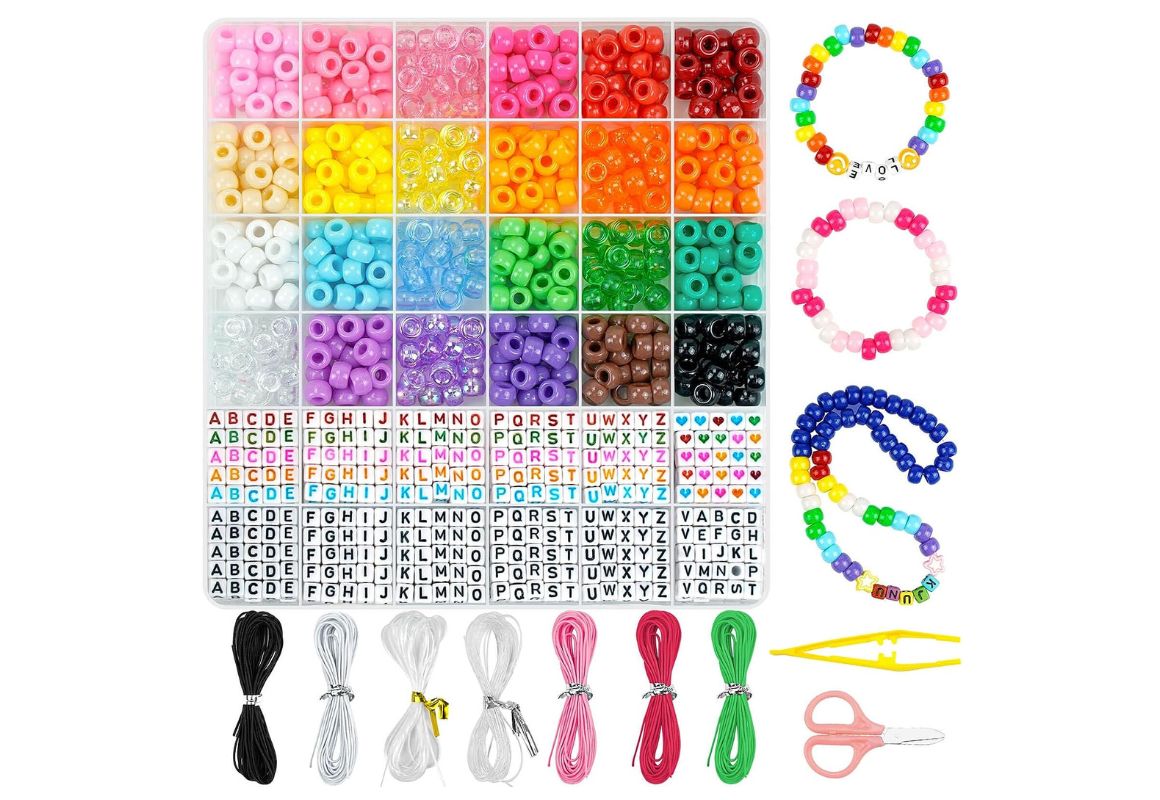 MOBILE COUPONS NEEDED
10% Off - Jewelry-Making Kit, Amazon Coupon, Limit 1