We're reader-supported and only partner with brands we trust. When you buy through links on our site we may receive a small commission at no extra cost to you. Learn More. Product prices and availability are accurate as of the date and time indicated and are subject to change.
September sales may not be as flashy as the sales that show up in the fall and early winter months, but in a lot of ways, September feels like the calm before the shopping storm. Coming off big summer sales and leading into the Black Friday season, September is a little breather of sorts. Just a breather though, because we've still got a few recommendations for what to buy in September, so you can stock up at the best prices.
Focus on Labor Day sales at your favorite stores. I've highlighted Kohl's, Macy's, and Target, but they aren't the only ones with great deals on the long weekend. Also watch to fill your pantry with school lunch items, and buy up all the meat you can fit in your freezer when it's on sale this month. For the list of what to buy in September, keep on reading.
For more smart shopping tips and savings hacks, text HACKS to 57299, and be sure to download the Krazy Coupon Lady app.
What to buy in September at the grocery store:
Lunchbox foods (think peanut butter, jam, crackers, and brands like Nabisco, Keebler, and Nature Valley)
Shampoo and conditioner (brands like Pantene, Nexxus, Herbal Essences)
Food for cookouts (buns, hot dogs, hamburger patties, pork ribs)
What to buy in September at the big box stores:
Shoes
Clothes
Home items
Patio furniture
Outdoor items
Halloween items
Camping gear
Grills
What major sales to shop:
Kohl's, Macy's, and Target's Labor Day Sales
Home Depot and Lowe's Labor Day Sales
1. Lunchbox Snacks
Lunchbox snack deals are big in September, so plan to stock your pantry! Look for things like fruit snacks, peanut butter, jelly and jam, cookies, crackers, and granola bars on sale.
Not only will you find tons of coupons and deals on rebate apps, but stores run great sales, too. You'll definitely want to keep an eye on Amazon (who has cereal bar 6-packs for $1.62), Target (with Krave snacks at 54% off), and even Walgreens where we saw 77% off Blue Diamond Almonds through Sep. 2.
Plus, here are 12 lunchbox ideas to make packing your kids' lunch easy for you and fun for them.
TIP: Be sure to follow the KCL deals page to find out about the best deals.
2. LUVS Paw Patrol and Overnight Diapers
Shop in September to save on Luvs diapers when you use Ibotta and Shopkick at Walmart. Shopkick has an offer for Luvs big diaper packs, and they even work on overnight diapers. Just upload your receipts to get 750 kicks. If you're shopping for regular diapers, grab a 124-count package of Luvs to save even more. Once you've finished your purchase, upload an image of your receipt to Ibotta for $4 cash back and an image to Shopkick for 1,650 kicks.
REBATES TO SUBMIT
1,650 Kicks - Luvs Diapers, Shopkick Rebate
PRICE SUMMARY
Pay $34.47, submit for $4 Ibotta credit and 1,650 kicks Shopkick credit
Plus 1,650 kicks Shopkick credit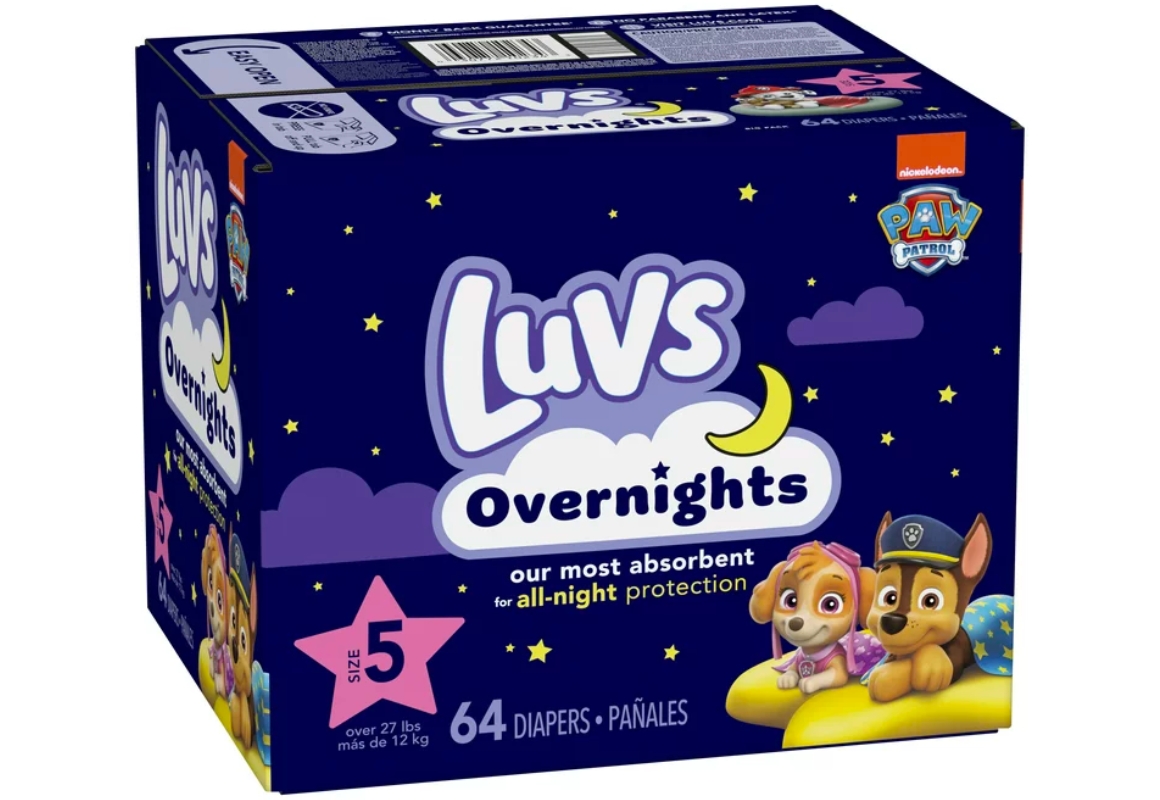 REBATES TO SUBMIT
750 Kicks - Luvs Big Diaper Packs, Shopkick Rebate
PRICE SUMMARY
Pay $18.47, submit for 750 kicks Shopkick credit
Plus 750 kicks Shopkick credit
3. Shoes and clothes during Labor Day Sales
Labor Day was Monday, September 4 this year. It was a great time of year to fill in blanks in your closet and home, as deals on clothing and home goods are abundant. Here are three sales we covered pretty extensively, but they were definitely not the only ones!
This sale ran from Thursday, Aug. 31 – Monday, Sept. 4, 2023. During Kohl's Labor Day Sale, we saw deals on The Big One bath linens, small kitchen appliances, and apparel deals for the family. Here's what else we saw in 2023:
Take $10 off $25 orders with code TAKE10
Sign up for Kohl's coupons via text (send SAVE02 to 56457) for 15% off that you can stack with the TAKE10 promo
Earn $5 in Kohl's Cash for every $25 you spend during Labor Day Sale
The Macy's Labor Day Sale was from Wednesday, Aug. 30 to Monday, Sept. 4, 2023. Honestly, we saw some pretty decent deals in almost every category during this sale. Here are a few hot deals from the sale:
$4 kids' apparel
$11 sheet sets
$9.99 graphic T-shirts and bras
$19.99 alternative down comforters
$20 mattress pads
The Target Labor Day Sale kicked off on Friday, Sep. 1, and ran through Monday, Sep. 4, 2023. There were discounts on clothing, patio items, home decor, and furniture. Here's what we liked about this year's sale:
Clothing and shoes for the family — 20% off
Furniture & Home Accessories — Up to 40% off
Kitchen & Dining Items — Up to 30% off
Bedding — 20% off
Free $15 Target Gift Card when you spend $50 on select household essentials
4. Shampoo and Conditioner
September is the month to stock up on shampoo and conditioner. Walgreens has some excellent mid-September deals with Love Beauty and Planet Hair Care for just $2 each after coupon and Register Rewards. They've also got a deal for men with Axe Hair & Body Wash ringing in at just $1.75 each with a digital coupon and BOGO offer.
Honorable mentions for what to buy in September sales include Amazon — with this 41% off deal on Garnier — and drugstores (particularly Walgreens, as proven above). With Ibotta offers, you can score 25 – 50% off.
Save even more with shampoo and conditioner coupons:
5. Razors and Shave Gel
Razors are at stock-up-price lows during the month of September. You'll want to aim for under $1.00 for BIC razors and around $1.99 – $3.99 for Gillette and Venus for stock-up pricing.
In 2022, I saw Gillette Mach3 Razors for 68% off! Most razor deals will require a sale, coupon, and sometimes even a rebate offer to get this low price. This one was at Target and I used a Target Circle offer, a newspaper coupon, and my Target RedCard. I even got a $5 Target Gift Card, which of course, I used on more razors.
Target also offered a great price on Nivea Shave Gel: 74% off with coupons and an Ibotta rebate! Look for final prices of $1.00 to $1.50 to hit stock-up price lows.
Watch for razor coupons, and when deals like these hit, stock up for a full six months, heck — even a year if you have space!
6. Grills and Cookout Food
Labor Day was Monday, Sept. 4, and it's usually the last big grilling holiday of the year. Stores go all out trying to sell their hot dogs, hamburgers, and steak stuff. It was an excellent time to stock up on meat and freeze them for future use.
Sam's Club had $1.50 off Ball Park hot dogs. We also saw 20% off Good & Gather ground beef at Target.
Right now, Walmart has a deal on a 4-Burner Gas Grill and Griddle Combo for $176 — a 40% discount.
7. Patio Furniture
The end of the season is the best time to find stuff on clearance, which I'm sure you already know. It's no different for larger purchases like patio furniture. Kohl's has over 60% off best-selling Sonoma patio furniture and accessories. And this 3-piece Better Homes & Gardens Wicker Chat Set is $197 at Walmart.
We also saw over 40% off select patio furniture at Target in their online-only clearance sale. Lowe's had up to 50% off patio furniture from Allen+Roth and more.
8. Outdoor Clearance
In September, most stores are hard-core clearing out the season's outdoor and gardening supplies to make room for fall seasonal items. So if you're researching what to buy in September, you'll definitely want to check out these clearance sections to prepare for next year. We're already seeing 40% off planters at Lowe's with prices starting at $2.98.
Keep your eyes open for gardening clearance up to 65% off items like plant hangers, hose reels, and planters starting at $1.99, and more at Walmart.
9. Camping gear
Being outdoorsy can get expensive, so anytime I have a shot at discount camping gear, I take it.
We're seeing Ozark Trail tents from $25 at Walmart. And Ozark Trail folding camp chairs are just $7.88 right now.
The REI Labor Day Sale ran from Aug. 25 to Sep. 4, 2023, and we saw 25-30% off camping gear. Shoppers could also take 30% off all sleeping bags, pads, and pillows and 30% off The North Face and NEMO tents.
Shop early for Christmas gifts or just plan for the next camping season.
10. School Supplies Clearance
Back-to-school clearance starts in late August with sales from 50% to 70% off. However, if you shop early in September you can score up to 90% off school supplies clearance. We've seen water bottles at CVS marked down from $7 to just $0.70!
11. Halloween Items (at certain stores!)
Did you know you can get a first stab at Halloween sales in September? It's true. You don't have to wait for the holiday to be over to score Halloween deals. We're already seeing $5 costumes at Walmart and matching family jammies starting at $5 at Target. Walmart's got up to 55% off Halloween decor in their current flash sale.
If you have a specific costume in mind or just want to check costume shopping off your to-do list — September does offer Halloween deals. Walmart, Zulily, and Amazon offer up the best pre-October deals.
However, there will definitely be more Halloween clearance in November. Lowe's offered a Halloween clearance sale with items up to 75% off!
What to Buy in September Honorable Mentions:
National Coupon Month
September is National Coupon Month! There's no better time of year to learn how to coupon! Couponing can save you 50 – 70% on your monthly grocery and household budget. If you've dipped a toe, but not dove in, this is the month.
Disney Plus Day: September 8
Disney Plus Day was a virtual event where Disney announced new and upcoming films and TV series. In 2022, new and returning Disney Plus subscribers got one month of Disney Plus for $2 as an added bonus.
National Cheeseburger Day: September 18
On National Cheeseburger Day, Applebees, Burger King, Smashburger and more offered cheeseburger deals. We saw a free cheeseburger with any $1 purchase at Burger King, $0.01 burgers with any purchase at Wendy's, and $0.50 double cheeseburgers at McDonald's.
Aldi German Week: Starts September 20
Aldi German Week happens twice a year, in May and September. During this event, expect to find up to 20 different authentic German foods that you normally can't find at Aldi stores. I'm talking strudel, soft pretzels, German pickles, and more.
National Coffee Day: September 29
Get free and discounted coffee on National Coffee Day! Here are a few of the best offers I saw last year:
Dunkin Donuts: Free medium iced or hot coffee with a purchase.
7-Eleven: Free coffee when you buy a baked good
Biggby: Free 20-ounce coffee
Wait until October or November for…
Hold off on buying appliances and electronics. Large appliances and TVs will likely have big discounts during early Black Friday sales.
Shop fall clothing later in the season for better prices. September is when most retailers start stocking cold-weather apparel and you'll be lucky to find a sale. Shopping later in the season has a higher chance for sales.