We're reader-supported and only partner with brands we trust. When you buy through links on our site we may receive a small commission at no extra cost to you. Learn More. Product prices and availability are accurate as of the date and time indicated and are subject to change.
Target Circle Offers bring extreme couponers and everyday shoppers together with easy, high-value savings. No clipping, no coupons. It's all digital, baby. And whether your Target runs are weekly or scattered throughout the year, you don't want to miss these discounts.
Circle Offers are a part of the Target Circle program (formerly known as Target Cartwheel). Simply put, they're deals and discounts you can only get at Target. But they cover a huge range of items, like toys, clothing, food, first aid, household staples — you name it. And Target drops hundreds of new Circle offers each week, online and in the Target app.
From everyday shopping to coupon stacking and scoring Target Circle Week deals, this all-inclusive guide answers all your questions about Target Circle Offers. I'll break down the basic "how-tos" plus provide you with expert tips for scoring the absolute best Target deals.
For more smart shopping tips and savings hacks, text HACKS to 57299.
1. Target Circle Offers are exclusive discounts for Target shoppers.
Target Circle Offers will help you save on everything from dog food to deodorant. Basically, each offer gives you a certain amount of money off one or more items, but you'll find hundreds of the offers available at any given time.
Circle Offers are the key to maximum savings at Target, but they're different from the standard sales you see. Which brings me to my next point…
2. Only Target Circle members can redeem Circle Offers.
As opposed to Target sale prices, which are available to all shoppers, you have to be a Target Circle member to use Circle Offers at Target. But since it's free to sign up, there's really no drawback to joining in on bigger savings.
Being a Target Circle member comes with other perks, too. You'll get 1% back on your Target purchases, a birthday reward, and other free benefits.
Related: How to Use Target Circle to Save Money Without Even Trying
3. All the current Circle Offers are listed on Target.com and in the Target app.
You can always see a full list of available Circle Offers on Target.com or in the Target app. Just sign into your Circle account to save and redeem offers.
Most Circle Offers drop on Sunday with the Target weekly ad, but that's not the only time you'll see them pop up. Target likes to surprise Circle members with new offers during the week, too.
Some Circle Offers are only available for 24 hours, and they're usually a big deal. So you'll have to jump on those fast.
4. See a Circle Offer you like? Save it to your account before you shop to get the discount.
It's important to know that Circle Offers aren't automatic — at least not completely.
You have to save Circle Offers to your account before you shop to qualify for the savings. But it's basically effortless. You can do it online or in the Target app, wherever you prefer to shop.
All you have to do is tap the "+" button next to the Circle Offer in the Target app or click the "Save Offer" button next to a Circle Offer on Target.com.
5. Single-use manufacturer coupons are lumped in with Circle Offers, too.
I know this sounds confusing, but not every deal listed under Circle Offers is a true "Target Circle Offer."
Within that section, you'll also find item coupons, category coupons, and single-use manufacturer (MFR) coupons mixed in with all the discounts. These work differently than normal Circle Offers, meaning they have different rules and restrictions.
The single-use MFR coupons give you a certain dollar amount off an item, like $3 off Tide Detergent or $4 off BIC razors. The most important thing to keep in mind? You can't combine single-use MFR coupons with paper coupons (aka, manufacturer coupons outside of Target Circle).
Related: Couponing can be confusing, but we'll show you how to coupon at Target the easy way.
6. Always read the fine print — it tells you where and how to apply each offer.
When you tap or click on a Circle Offer, all the details you need to know are right there. And it's not just a bunch of legal stuff that has to be there. It's important info you need to know to make the most of your savings.
There are three sections you need to pay attention to:
1. "Valid when you shop"
First, you'll see where that Circle Offer is available to redeem. It'll say, "valid when you shop" with the following options:
In-store
Order Pickup
Drive Up
Same Day Delivery
Shipping
The Circle Offer won't be valid for any options that are grayed out. For example, the above Circle Offer for 20% off Old El Paso condiments isn't valid for online shipping. So, you'd have to purchase your items via Target Pickup or another option listed to redeem the offer.
2. "Details & exclusions"
This is where you'll see any size, item, or quantity limitations for each specific Circle Offer.
3. "Terms & conditions"
The terms and conditions tell you how many times you can use the Circle Offer and how you can combine it with other coupons and promos. Checking this section will help you avoid buying items that aren't eligible for the discount, or buying more items than the offer allows.
7. Circle Offers are automatically applied to your purchase when you shop online, as long as you have them saved to your account.
As long as you save all your Circle Offers to your account before checking out online, they'll automatically apply to all eligible items in your order.
On your checkout page, you'll see which of your saved Circle Offers were applied to your order, based on the items in your cart.
The same goes for in-app purchases. As long as you're shopping through your Circle account and your Circle Offers are saved beforehand, they'll apply where valid.
8. Scan your Target app barcode at checkout to apply Circle Offers in-store.
It's easy to redeem Circle Offers on in-store purchases, too.
First, save all the offers you'd like to redeem to your Circle account. When you're ready to checkout, open your Target app and tap "Wallet" on the bottom menu. Then tap, "Show my barcode." Have the cashier scan your Circle barcode (or scan it yourself at self-checkout).
Don't have your smartphone? No problem. Just enter the phone number or email associated with your Circle account on the keypad to connect your purchase.
9. Use the Target app to scan items and check for Circle Offers while you shop in-store.
I don't know about you, but I almost always walk out of Target with more than what I went in for. That's just the magic of Target, for better or worse.
If you see something you love that wasn't on your original shopping list, there's a quick and easy way to check for Circle Offers on that item.
Open your Target app and tap the barcode icon located in the search bar at the top of your screen. Then, hold your phone over the item's barcode to scan it. Immediately, the Target app will bring up the online product listing and show you all eligible offers available at that time.
Don't have service in your local Target store? Use the free Target guest Wi-Fi to save Circle Offers as you shop.
Related: Here's your full guide to everything you can do with the Target app.
10. You can redeem one Target Circle Offer on up to four items per transaction.
Once you get the hang of saving with Circle Offers, you'll want to go all in. But knowing the limits will help you avoid overpaying or misinterpreting a deal.
Target lets you redeem a Target Circle Offer on up to four eligible items per transaction. So, if there's a Circle Offer for 20% off All Laundry Detergent, you can buy four bottles of All in a single transaction and get 20% off each bottle. But if you try to buy five bottles in one transaction, the Circle Offer will only apply to four of them.
But here's the loophole: You can make up to six Circle transactions per day. So technically, you can redeem a Circle Offer on up to 24 eligible items per day, as long as you break them up across six different transactions.
11. Stock up when you see a Circle Offer and a sale price at the same time.
When I see a Circle Offer for something that also has a sale price, it's time to do my happy dance. Once you get the hang of Circle Offers, I promise you'll share the same enthusiasm.
Aim to pair your Circle Offers with items that Target has on sale at the same time. This is a stellar way for lazy couponers to stack savings with little to no effort.
Once you get a feel for this, you can take it to the next level and add another layer of savings to slash prices even more — coupons, cashback, rebates, you name it.
12. Stack Circle Offers with your 5% RedCard discount.
One of the easiest ways to stack savings at Target is to be both a Circle member and a RedCard member.
The main RedCard benefit is an extra 5% off your Target purchases when you pay with your card. Your 5% discount works on top of any Circle Offers applied to your purchase, so you're constantly racking up even more savings.
Just like Target Circle, it's free to sign up for a RedCard. You have three options to choose from: a credit card, a debit card, or a reloadable account. Whichever you choose, you'll get even more Target perks for being a member.
TIP: With a RedCard, you won't get the 5% discount and the 1% back in rewards from Target Circle. Your 5% discount will automatically replace your 1% Circle earnings when you become a RedCard member.
13. Stack Circle Offers with Ibotta cash back for bigger savings.
If you're not using the Ibotta app to earn cash back on your Target purchases, you're missing out!
The Ibotta app gives you cash back on certain items from certain stores, and Target is one of them. You'll see offers like $3 back on Lysol Air Sanitizers, or $5 back on Huggies Diapers. The great thing is you can combine Circle Offers and Ibotta deals to shave more dollars off your in-store purchases at Target.
Just like Target Circle Offers, you'll need to save Ibotta deals to your account in the Ibotta app before you shop. After you pay for your items, hop back into the Ibotta app to submit your receipt and redeem your cash back.
Related: Get started with how to use Ibotta at Target.
14. You can even stack a Circle Offer, gift card promo, AND Ibotta cash back on the same items.
Savings like these are almost too good to be true.
Target regularly drops gift card promos on common items, like personal care, household supplies, and diapers. These promos will give you a free Target gift card when you spend a certain amount in a certain category. For example — get a free $15 Target gift card with a $50+ home care purchase.
At the same time, you'll see Circle Offers like 20% off Persil laundry detergent. Since laundry detergent falls under the home care category at Target, both the Circle Offer and gift card promo are good to use on Persil laundry detergent.
Now it's time for the triple stack. Let's say you find an Ibotta deal for $2 back on one bottle of Persil laundry detergent. Save the deal to your Ibotta app, shop for your items in-store, then upload your receipt.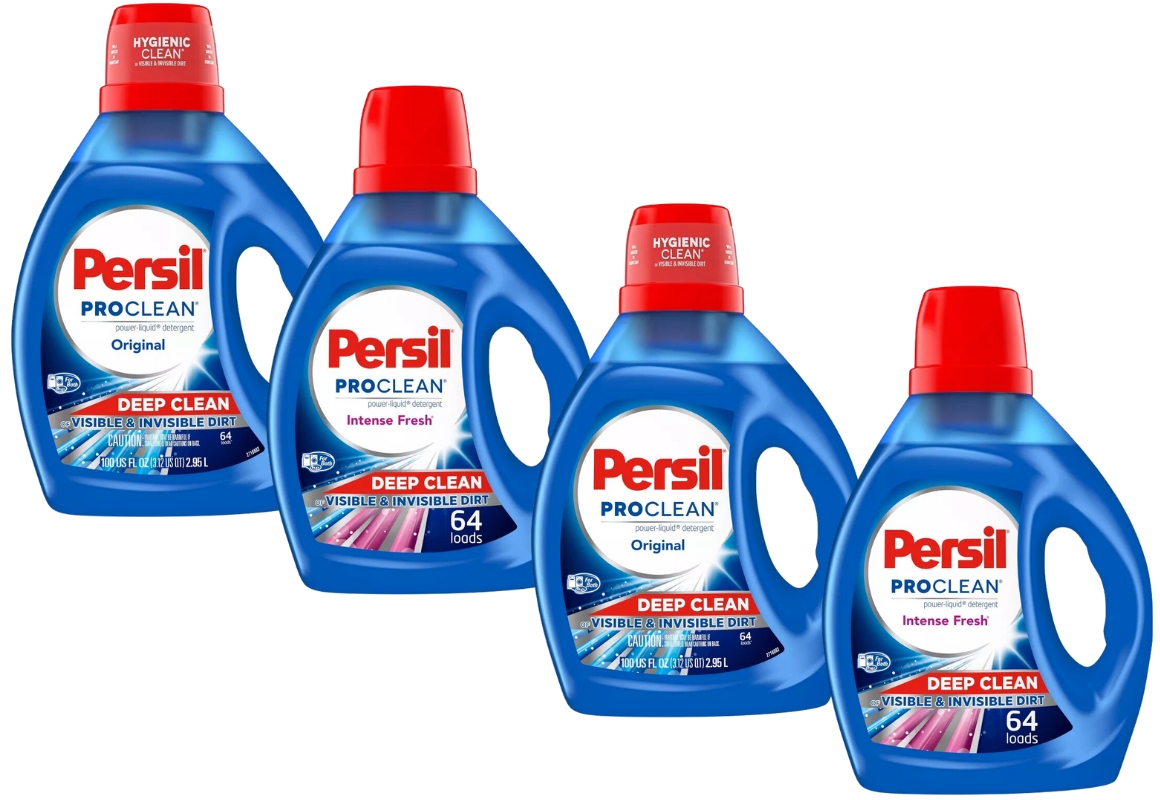 As low as
$23.12
$55.96
(59% Off)
MOBILE COUPONS NEEDED
Free $15 Target GiftCard - with $50 Home Care Purchase (exp Aug. 12)
20% off - Persil Laundry Detergent, Target Circle Offer (exp Aug. 12)
5% off - Target RedCard Savings
REBATES TO SUBMIT
PRICE SUMMARY
Pay $46.12, receive $15 Target gift card and submit for $8 in Ibotta credits
$5.78 each / $0.09 per load
After your triple stack, you'll end up saving 60% on four bottles of Persil versus paying full price.
15. Or, Stack your Circle Offer with a manufacturer coupon instead.
If you're not ready for a Target triple stack yet, it's totally fine to start smaller.
Try pairing a Circle Offer with a manufacturer coupon instead — whether you clip it from your Sunday newspaper, print it from KCL's coupon database, or get it sent to you by mail (like if you sign up for the P&G loyalty program).
16. Circle Offers are applied to your purchase after gift card promos but before manufacturer coupons.
Target doesn't apply Circle Offers to your purchase at random. In fact, there's a very specific method to which discount comes first. To learn it, a little Target math will do the trick. But don't worry — it's nothing like high-school algebra.
Any discounts from gift card promos (like a free $10 gift card with a $50 household purchase) are applied to your purchase first. Then, your Target Circle discounts will factor in. After that, any savings from printable manufacturer coupons are added.
Knowing how discounts are applied at checkout helps you plan your purchases better and avoid any surprises at the register. You'll be able to calculate exactly how much you're saving before you even head to the store.
17. Shop during Target Circle Week for some of the best Circle Offers you'll see all year.
Target Circle Week used to happen semi-annually in March and September. But in 2023, Target totally reinvented the event, making it a seven-day sale to compete with Amazon Prime Day in July.
During that time, Target dropped Circle Offers for up to 50% off hundreds of items, including apparel, vacuums, toys, kitchen appliances, laptops, and school supplies. And the deals were actually good enough to compete with Amazon. We're eager to see if they change it up for Black Friday this year, too.
Related: These are the best Target Prime Day deals to look for during Amazon's big sale.
18. Activate Circle bonuses to earn rewards on certain Target purchases.
Every now and then, you'll see bonuses available under Target Circle Offers online or in the app. These limited-time bonuses give you a reward when you spend a certain amount at Target during that timeframe. For example, I have a Circle Bonus in my app right now for a $25 reward on three qualifying purchases of $90 or more. They kind of remind me of the Starbucks Rewards bonuses.
All you have to do is tap or click "Activate bonus," then shop at Target through your Circle account to earn the reward. Your purchases will have to reach the designated amount (in my case, that would be $90) to qualify for the reward.
Keep in mind that not everyone has the same bonus offers available in their account at the same time. Circle bonuses are tailored to your shopping habits and vary from one Circle member to the next.
19. You can't combine a Circle Offer with a Target price match.
If you're like me and a fan of the Target Price Match Policy, you know it's a great tool for getting the lowest price. Target price matches a long list of competitor stores either before your purchase or up to 14 days after. If a competitor has a lower price for the exact same item, Target will honor the lower price.
However, Target's policy doesn't allow you to get a price match and use a Circle Offer on the same item. You'll have to choose one or the other, ideally whichever gets you the biggest discount in the end.
20. You can save up to 75 Circle Offers to your account at once — and apply them all to a single transaction.
The rules are the rules. Target lets you save 75 active Circle Offers at any given time, and you're allowed to apply them all to one transaction. Now, I'm not sure what kind of shopping you're doing where this would work to your benefit, but it is technically possible.
So if you dare, go for it!