Ready or not, it's almost time to tuck in our flip flops for the winter and break out our fall boots.
And I'm not gonna lie — I'm sad about it. But every year, I comfort myself by setting Deal Alerts inside the KCL app and stocking up on summer clearance for next year. Yes, retail therapy — no, I'm not ashamed.
I save so much by doing this because I'm buying 80% off summer clothing now instead of buying it full price next May.
But there's a strategy to it and I'm about to spill all my secrets.
1. Don't wait for a summer clearance sale — sign up for Paribus and get cash back when there's a price drop.
A great way to start shopping summer clearance is to not even bother waiting for the sale to start.
Here's what I mean — if you buy an item within about two weeks before it goes on sale, you can take advantage of the price adjustment period.
Many retailers will refund the difference between what you paid and the new sale price.
Even better? Paribus will monitor online purchases you make and help you get the difference back for free.
Meaning you can just enjoy the end of summer and wait for all the savings to roll in.
Paribus compensates us when you sign up for Paribus using the links we provided.
2. Shop Lowe's Summer Clearance Event for 50-80% savings on patio furniture and grills.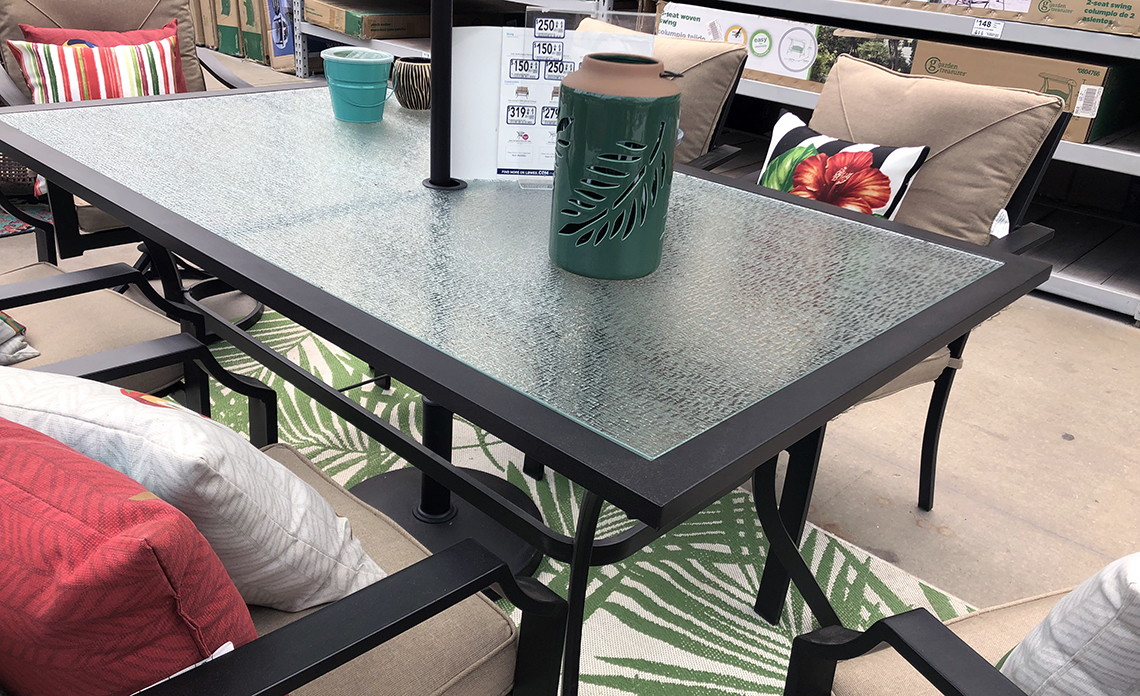 You can't miss Lowe's Summer Clearance Event if you want to update or furnish your patio.
The sale runs from about mid-August to mid-September and we've seen outdoor dining tables for $24.12 (reg. $79.12) and stackable resin Adirondack chairs for $2.98 (reg. $9.98).
Watch for charcoal grills to reach as low as $24.50 (reg. $49.00). Plus you'll see flower pots, table-top tiki torches and more — all for 50-80% off.
And then learn to shop Lowe's like a pro even when it's not summer.
3. Pretend it's already fall and shop Hobby Lobby's Christmas Clearance.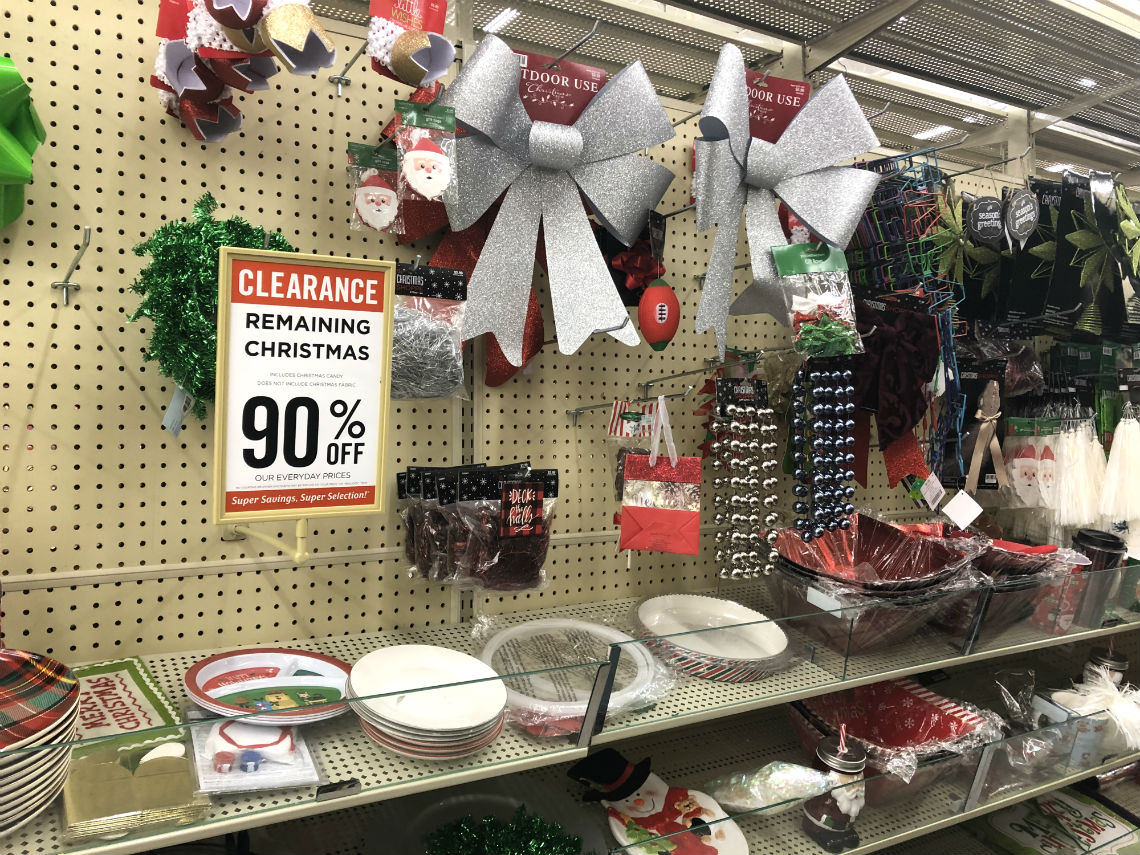 Yes, you're probably still wearing shorts and sipping iced tea on your patio or by the pool.
But if you want the best selection on Hobby Lobby's Christmas items, you gotta get your autumn on.
Shop at the beginning of September when everything Christmas is marked down to 40% off.
Sure, you can get a better deal the longer you wait since Hob Lob will continue to mark down Christmas items until December 25th. And if you're not picky, that's a great approach.
But if you want certain items, go ahead and buy at 40% off because once Hob Lob stocks its shelves with Christmas, they don't reorder anything. When it's gone, it's gone.
Find out how to save more money at Hobby Lobby next time you're there.
4. Stock up on shorts or jeans for your teen (or yourself!) at American Eagle Outfitters.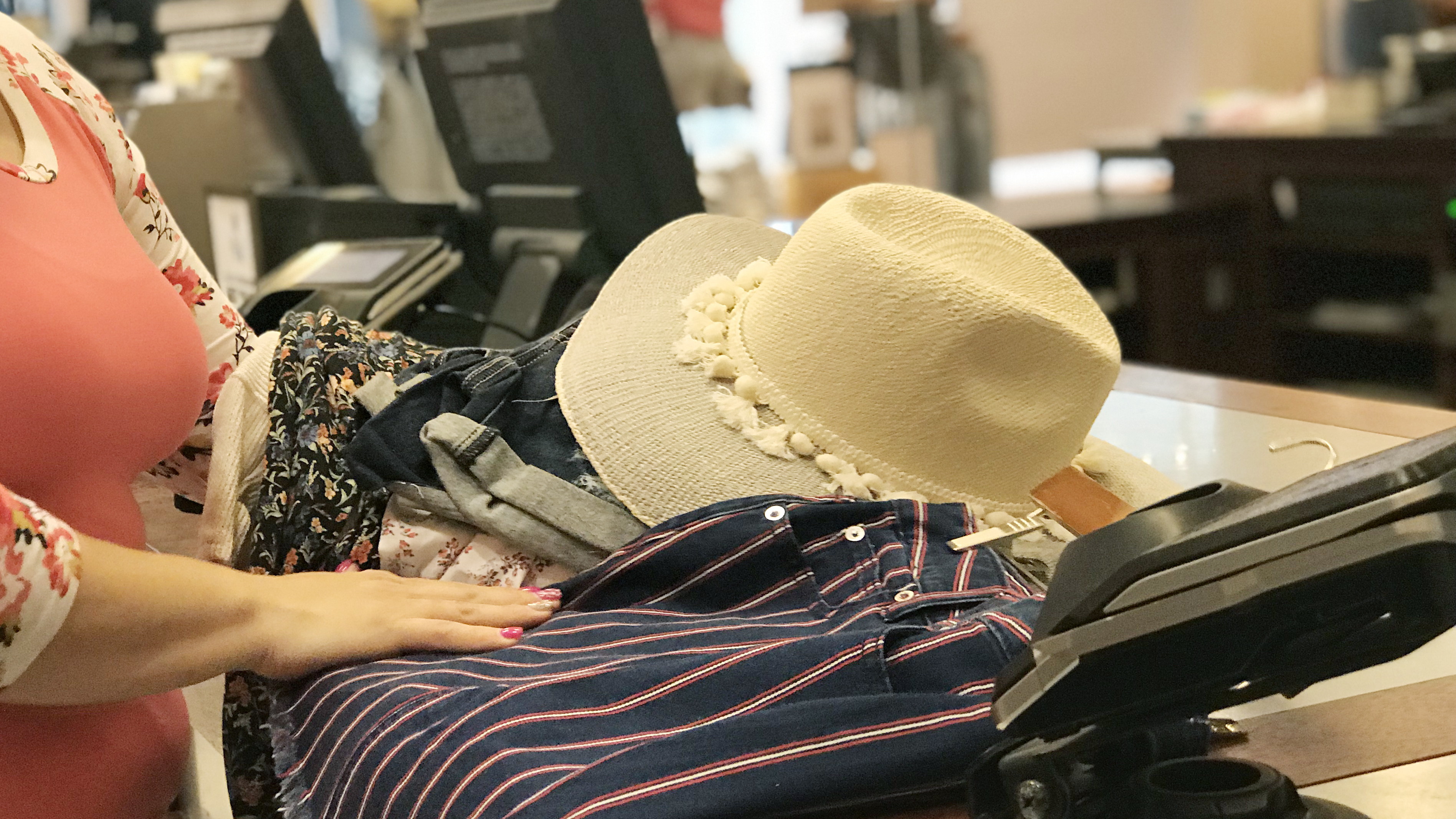 Finding clothing clearance is a total score because you can use items all year long or save them for next season.
As a general rule of thumb, you'll want to buy American Eagle jeans when they reach about $19.99 (reg. $59.95) and shorts when they reach about $14.99 (reg. $49.95).
If you shop at the end of August, you'll get both of these prices!
Want to know more about how to save on your favorite pair of jeans? Got you covered.
5. Watch for a Gap online sale in late August and stock up on under-$4.00 T-shirts.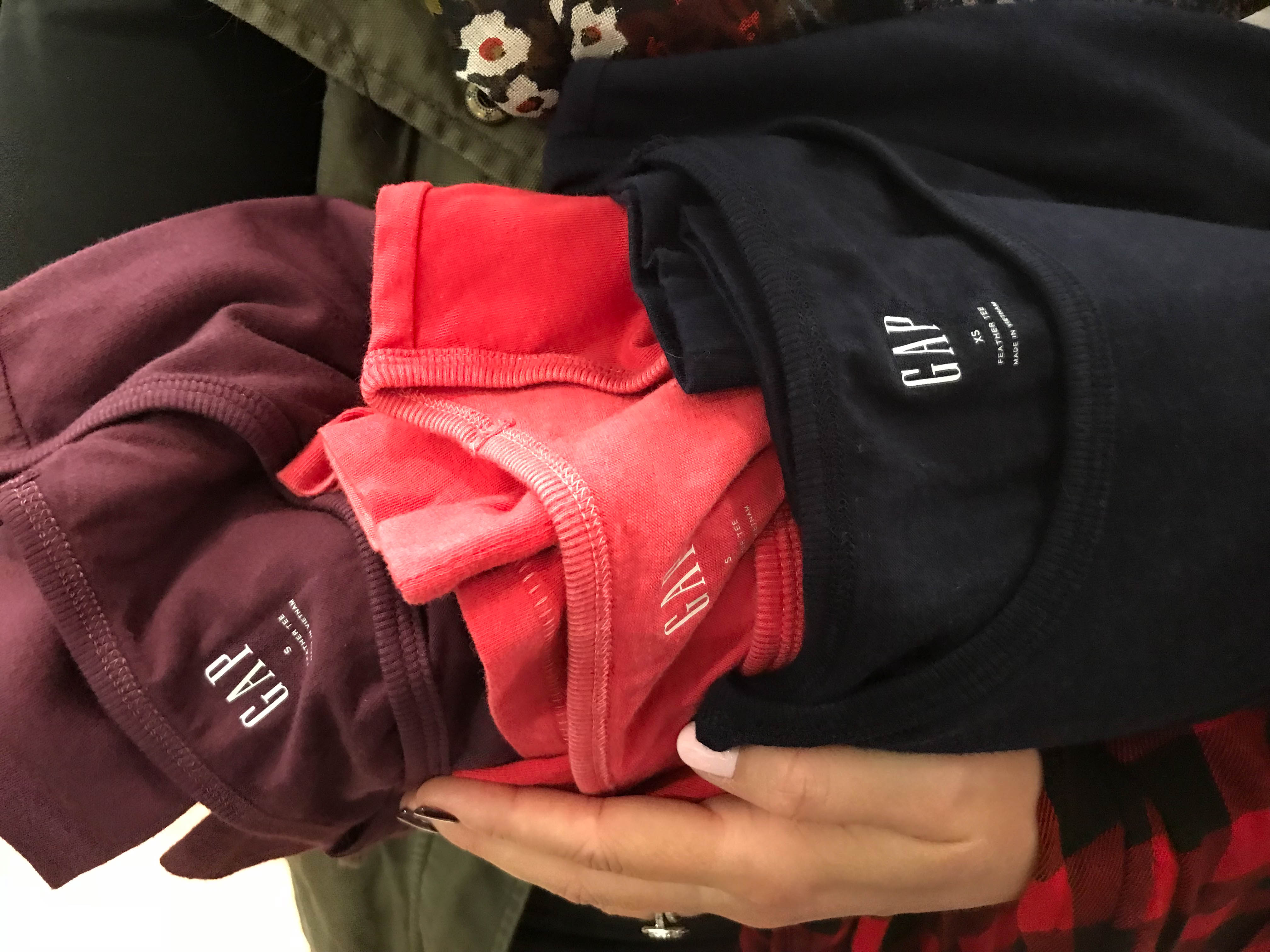 Last year we saw select women's T-shirts for $3.23 (reg. $24.95) and men's T-shirts for $5.39 (reg. $29.95).
This was online-only and it was a 40%-off clearance clothing sale, plus you could use a second promo code for an extra 10% off.
Also! If you haven't heard yet, Gap has finally introduced a loyalty program where you can earn 2% cash back on every purchase you make.
It's called Bright Rewards, it's free, and it's gonna help you save even more money at Gap.
6. Build a stash of pants from The Children's Place (size up!) for when the kids outgrow their pants around February.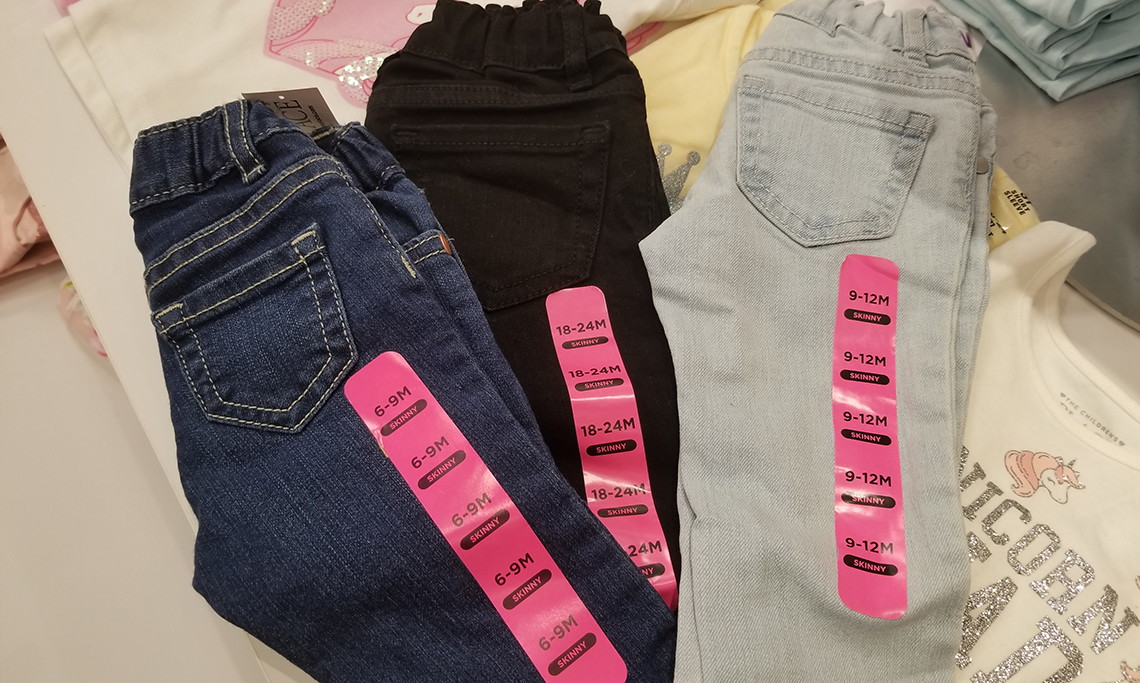 Shop The Children's Place mid-August and you'll be rewarded with $7.00 jeans and $5.00 uniform polos.
Buy what you need for school in the fall, but consider buying a size up as well so you have pants on hand when you wake up one winter day and your son has literally grown three inches overnight.
Or for the little girl who tears holes in her the knees of her jeans faster than she outgrows them.
While you're at it, learn a few secrets to getting The Children's Place clothing for almost nothing.
7. Shop Labor Day Sales for extra savings on top of clearance prices.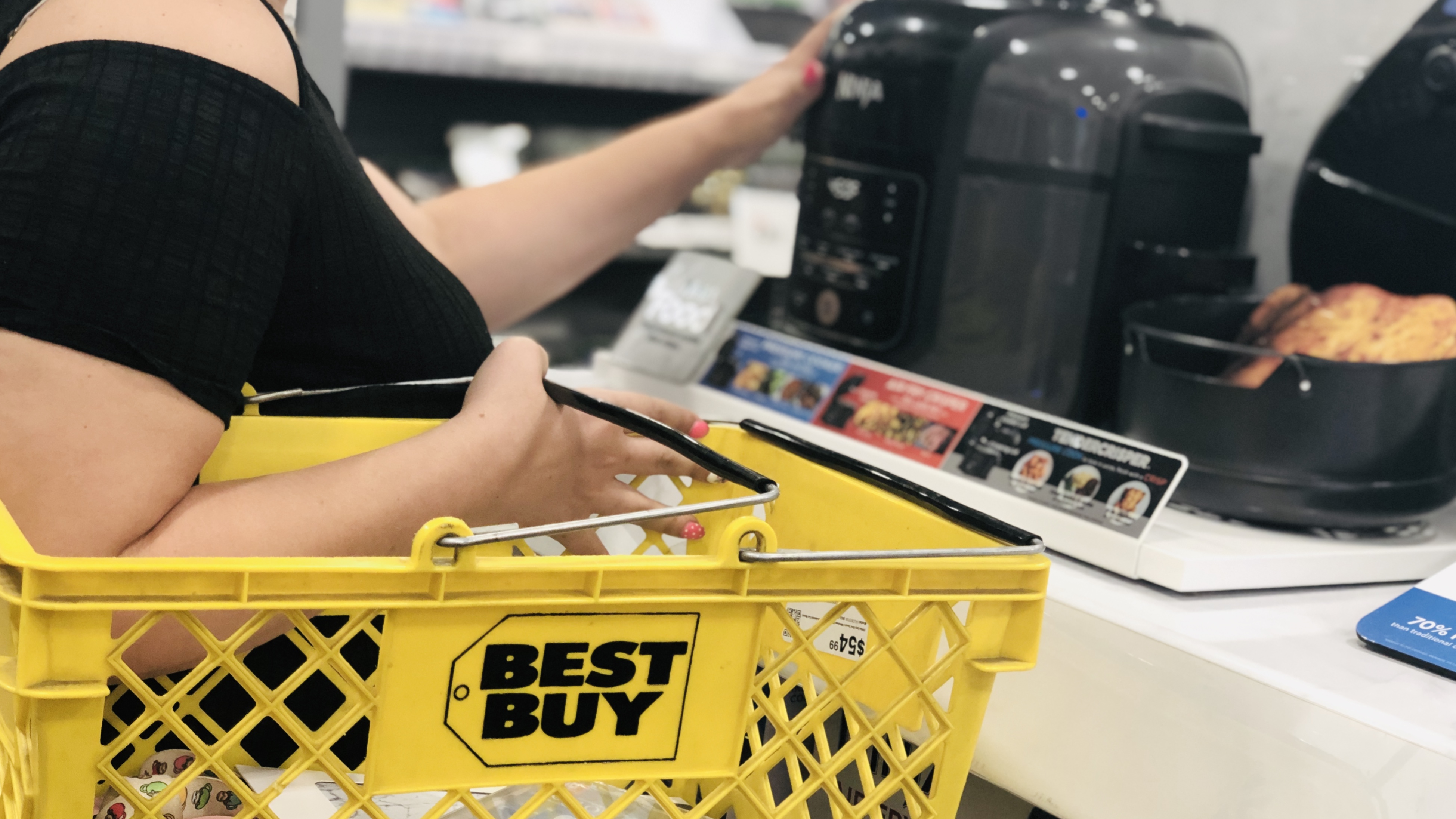 This year, Labor Day weekend is Aug. 31-Sept 1 and you should certainly keep your eyes peeled for extra-percent off clearance sales anywhere you plan to shop.
It's a thing.
Express — Extra 40% Off Everything. Look for $11.99 sweaters and jackets for $35.99.
Justice — Extra 50% Off Clearance. We've seen $1.50 tank tops! Save them for next summer.
Eddie Bauer — Extra 50% Off Clearance. Look for men's henley T-shirts for $9.99.
Best Buy — $100 off an iPad Mini
Love sales? You need the smart shopper's guide to every store's major sale in your life.
8. Use BrickSeek to see if another store has more clearance inventory than the one you're at.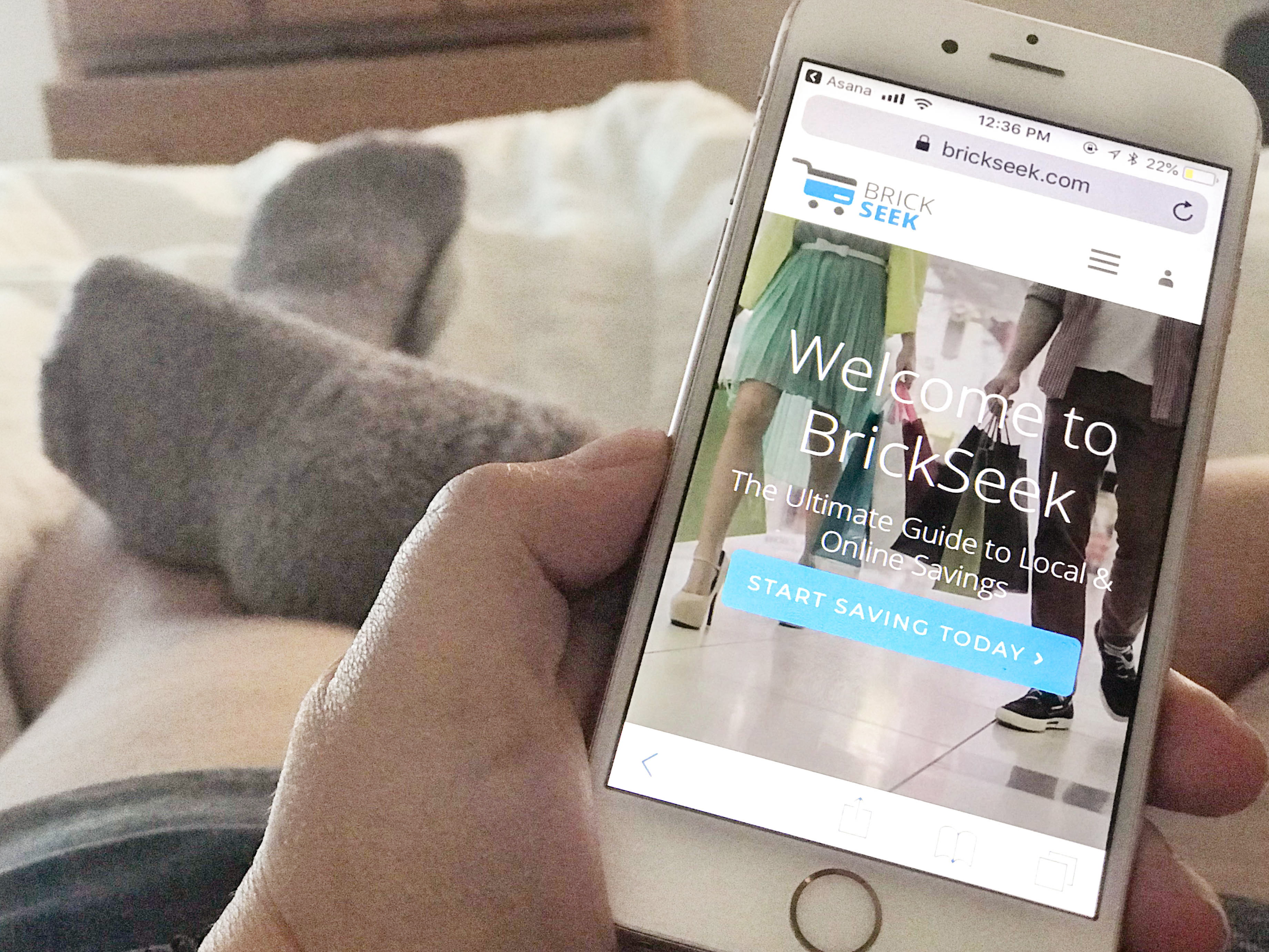 When you're shopping at Walmart or Target and you find a killer deal but there's just not enough of what you need, check BrickSeek to see if another store in your city has more.
Just enter the UPC code and if you find more inventory, call the store (or ask an associate to do it for you) and put the items on hold while you run across town. #worthit
Find out why BrickSeek is the Target and Walmart inventory checker you need in your life.
9. Look for up to 50% off camping gear — like tents — at DICK'S Sporting Goods.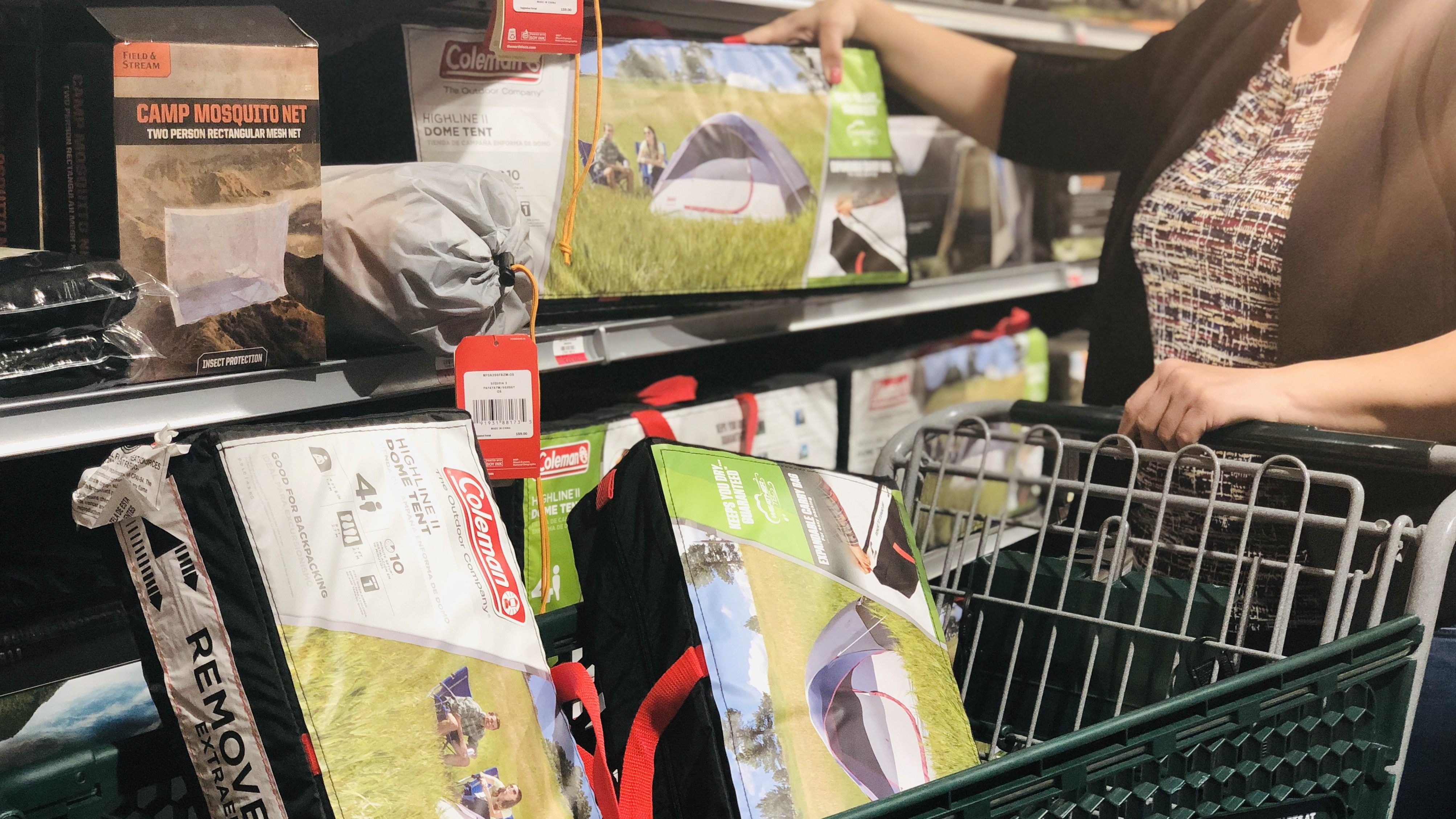 We've seen 8-person dome tents on clearance at DICK'S for $89.99 (reg. $199.99) when you pair the sale with a coupon like $10.00 off a $50.00 purchase.
In fact, this is cheaper than buying Walmart's Ozark brand tent, which is priced at $129.99!
Learn how to shop DICK'S Sporting Goods and get the lowest prices possible.
10. Sign up for free loyalty programs before you go clearance hunting.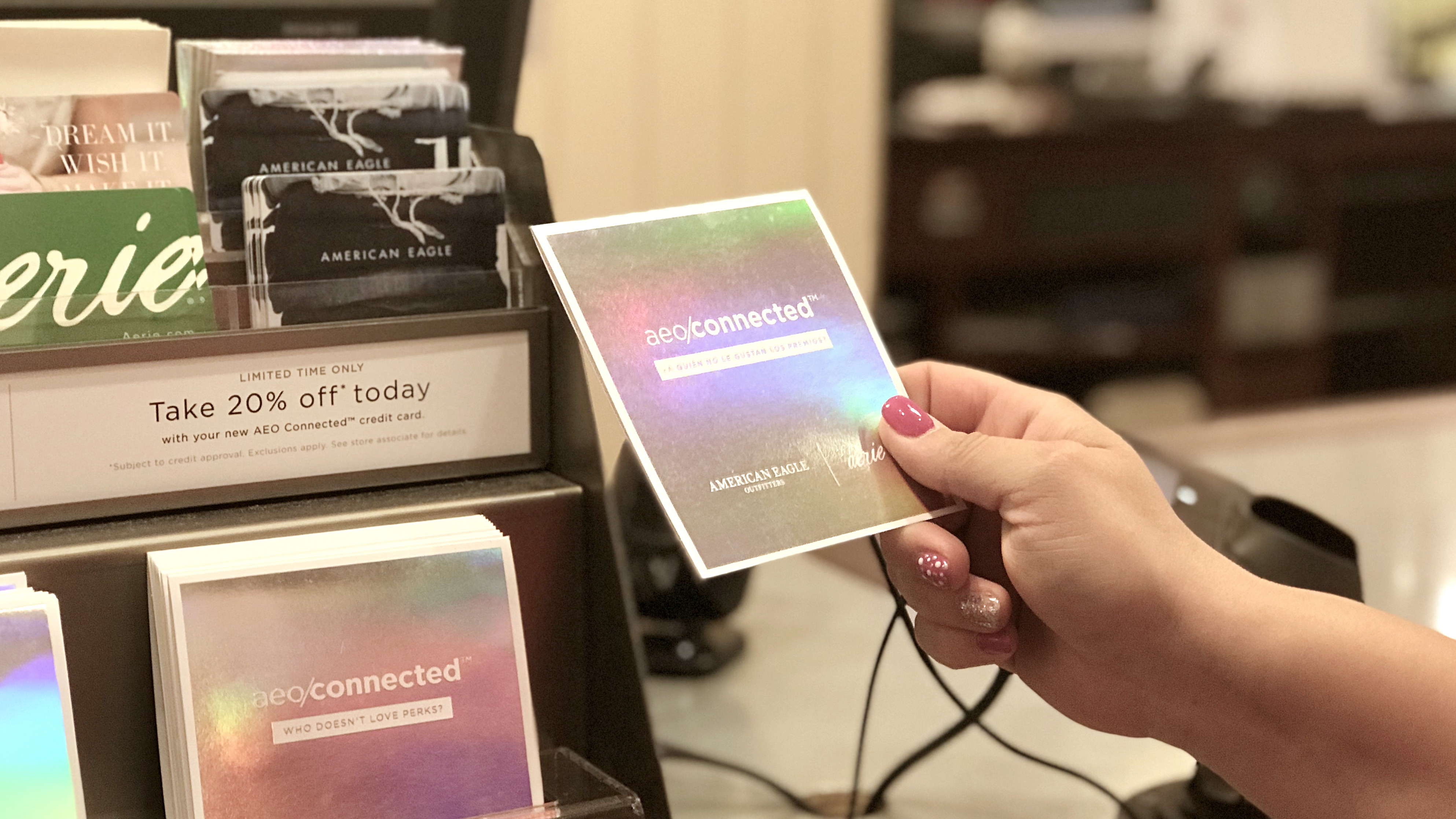 Stores like DICK'S Sporting Goods offer a free loyalty program called Scorecard where you can earn 3% of what you spend back in the form of store rewards, similar to store cash.
If you know you're making a big purchase or two — maybe buy camping or sports gear for next season — try to do it all at DSG in order to reap all the loyalty points.
Another example of why loyalty programs rock is when you sign up for American Eagle Outfitters' loyalty program (AEO Connected), you'll get the chance to earn a free pair of jeans for every five pair you buy.
Or earn and spend Place Cash at The Children's Place to get even deeper savings on clearance prices.
11. Stock up on office supplies during Target's 90% off back-to-school clearance sale.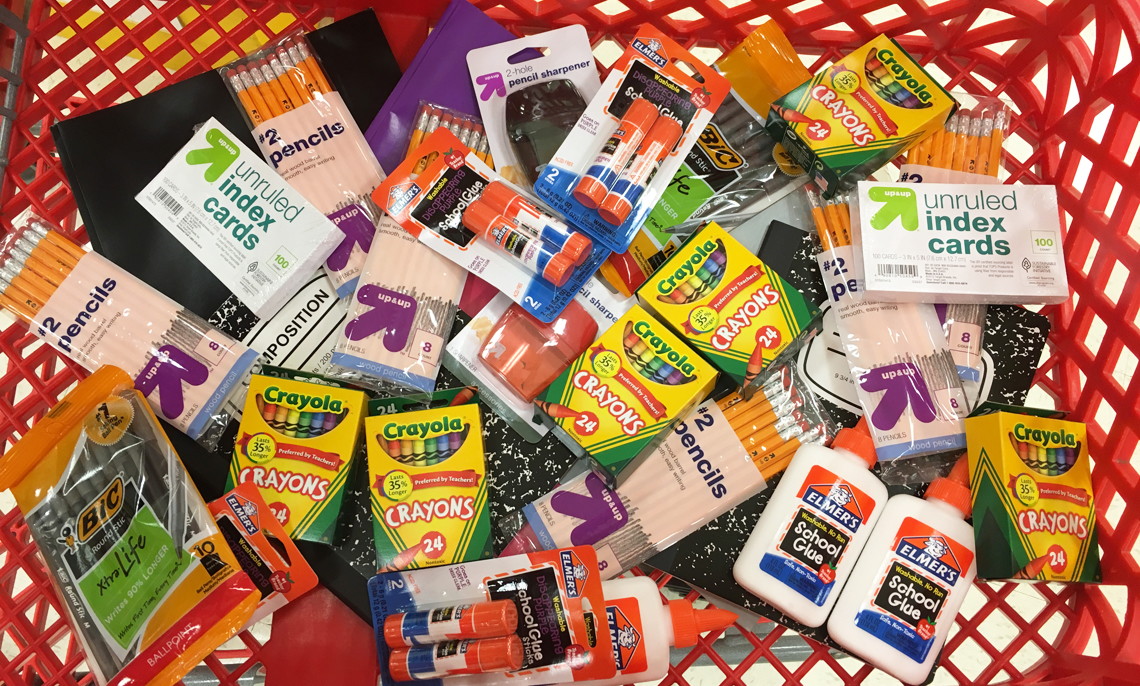 Target's summer clearance prices start at 50% off for the first few days and then dip to 70% off and finally, they'll hit 90% off about a week or two after they first hit 50% off.
(Here's your complete guide to Target clearance.)
The rule of thumb is to buy anything you cannot live without when it reaches 50% off because items go quickly.
But if you have an open mind, you can find some treasures during the 90% off markdown. Plus, it's not impossible to find supplies like paper, glue and pencils — I've done it before.
Get all the secrets to shopping Target back-to-school deals.
12. Use the Amazon app to make sure you're getting the best summer clearance deal at Target.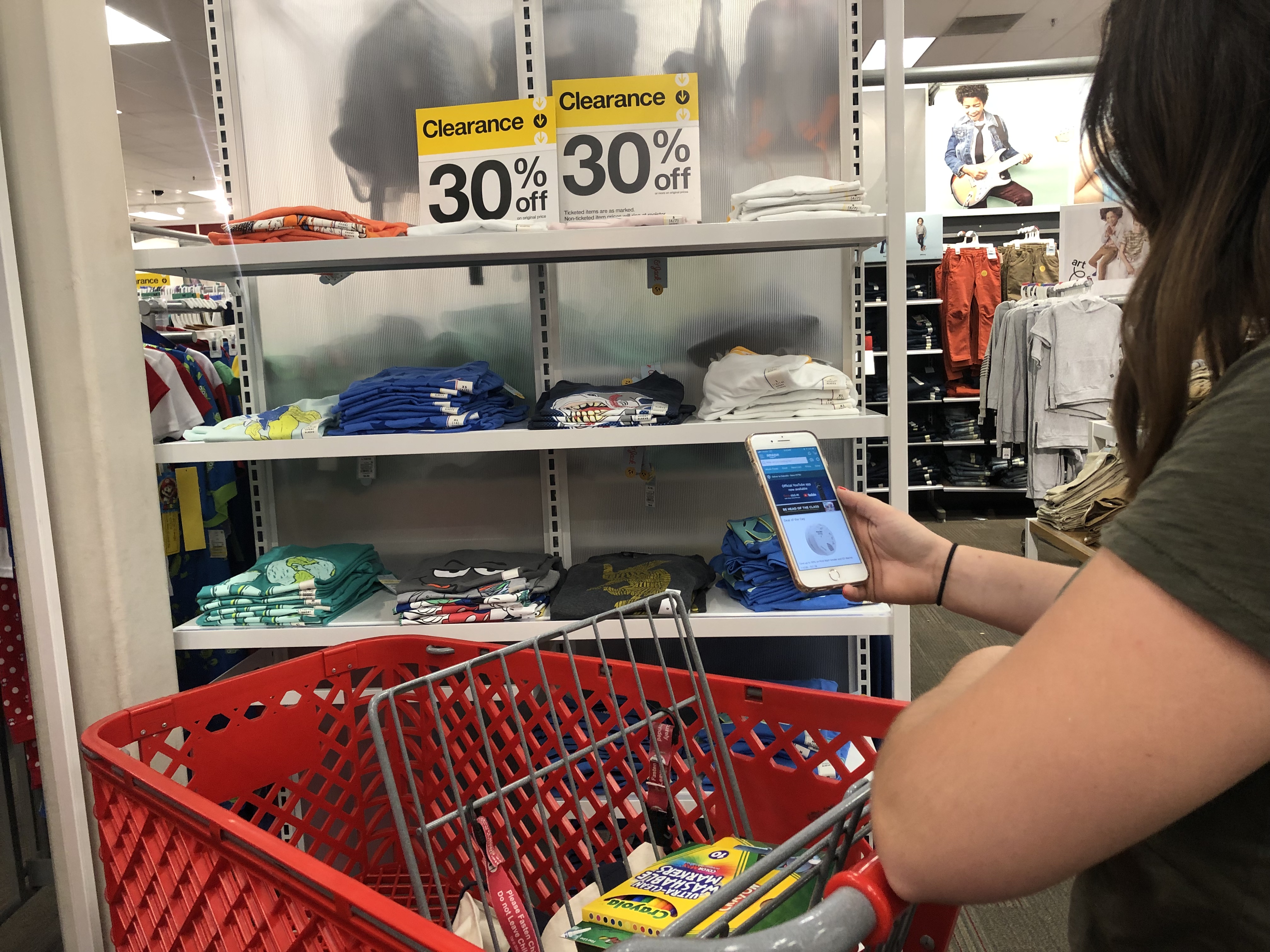 Since you're bound to see other Target summer clearance deals when you're shopping Target's back-to-school clearance sale, download the Amazon app.
Scan barcodes inside Target to compare with Amazon's prices and confirm that the item at Target is actually cheaper than it is on Amazon.
If you find a better price on an identical item on Amazon, show it to a Target customer service associate and they'll match Amazon's price.
13. Shop DICK'S Sporting Goods mid-August for 40% off The North Face jackets.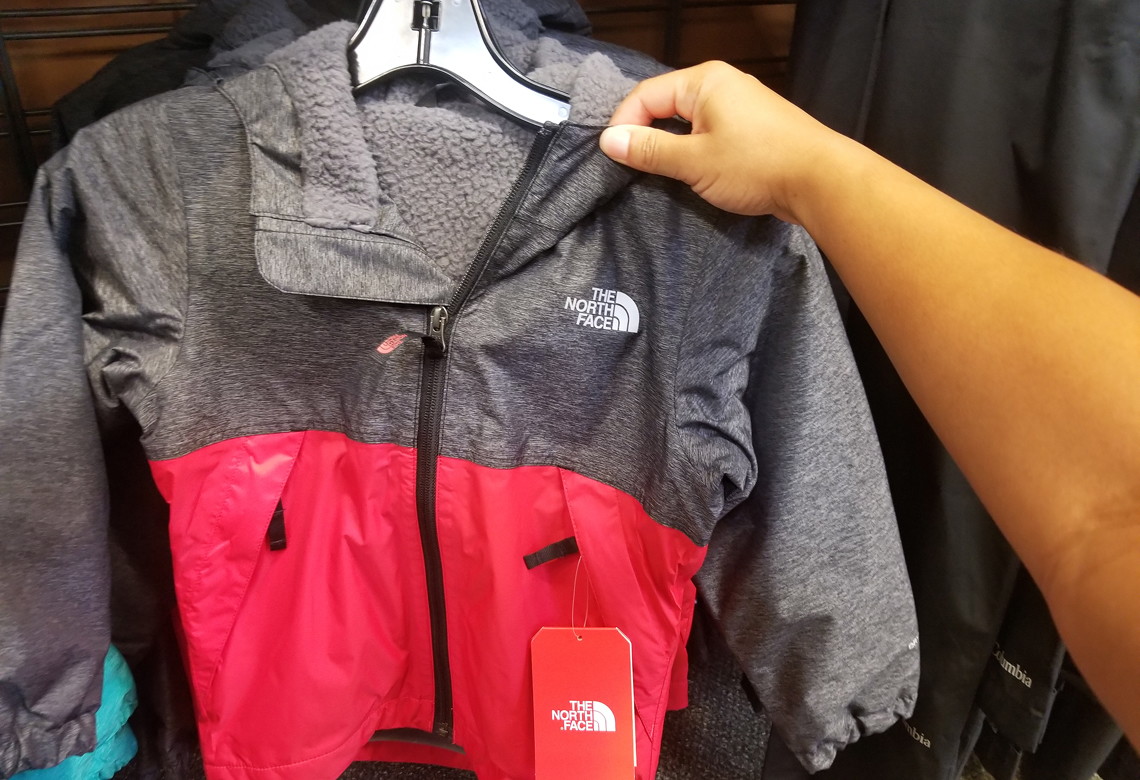 Expect The North Face sweatshirts and fleece jackets to get a markdown around mid-August and buy when they reach 40% off.
This is a legit discount on a brand like The North Face which doesn't see many sale racks and often is listed as a brand you can't use a coupon to buy.
TIP: Shop 6pm.com if you need The North Face apparel any other time of the year. We consistently see up to 50% off all year long. 6pm.com offers discontinued styles, but at half-price, who's paying attention?
14. Stock up on outdoor supplies — like mulch and charcoal briquettes at Home Depot.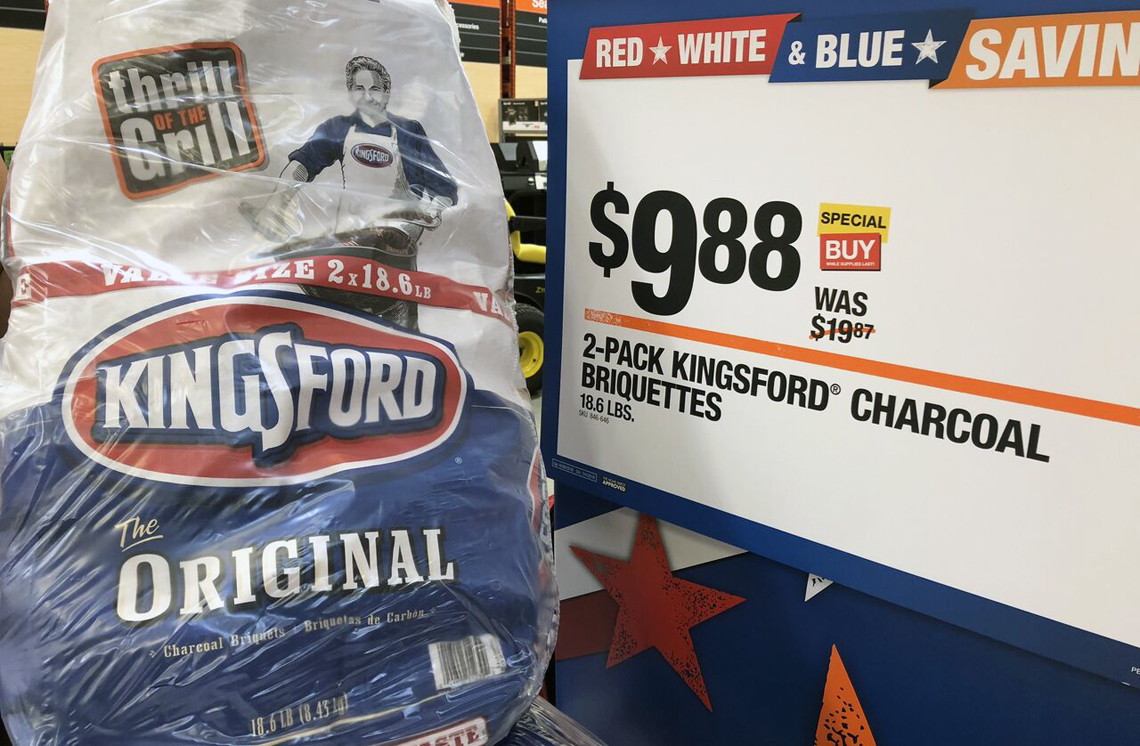 Toward the end of August, we usually see stores like Home Depot and Lowe's trying to offload their garden and outdoor inventory in order to make room for holiday items.
This is the time to stock up on anything you might need for your yard next spring.
Watch for bags of mulch to reach $2.00 each (reg. $3.33) and charcoal briquettes to get as low as 50% off.
Get more Home Depot savings tips.
15. Shop Nordstrom Rack's Clear the Rack Event for up to 70% savings.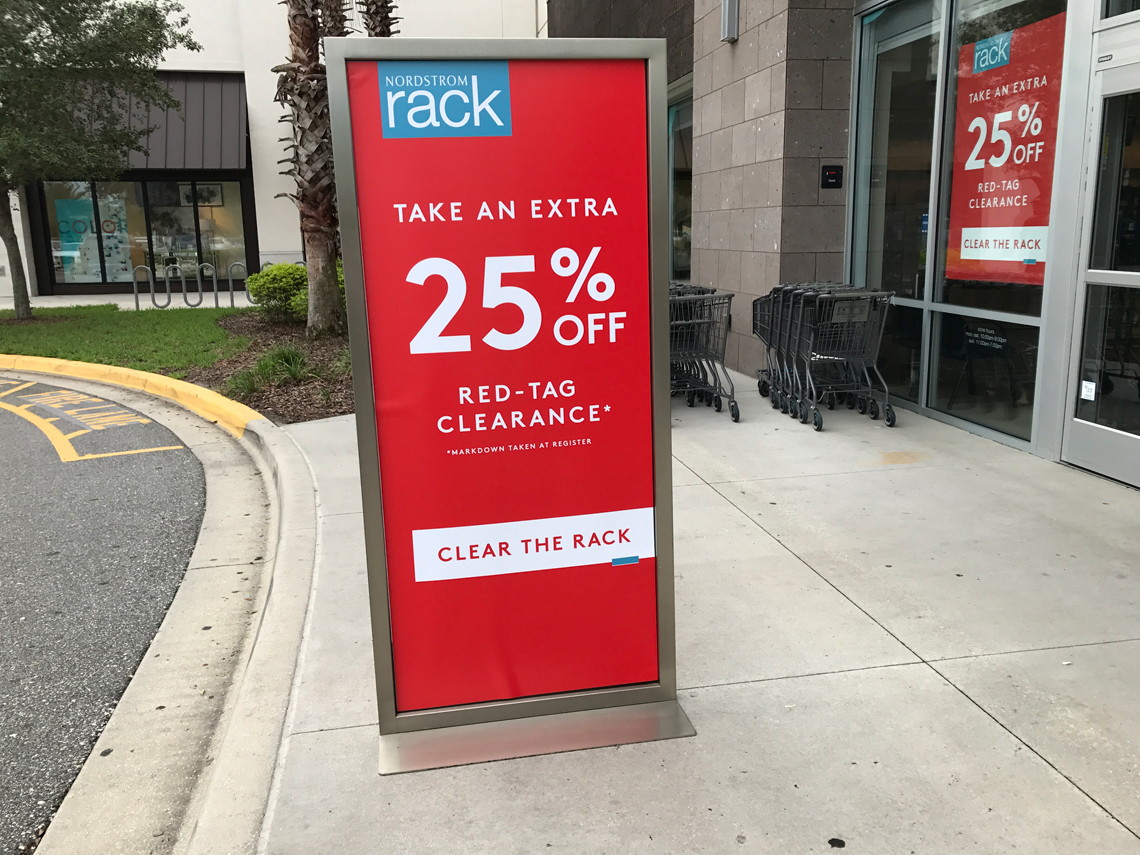 First, it's totally possible to save big money on Rack's clearance racks alone.
Then, when you combine it with an additional 25% off, you'll be walking into a world where Michael Kors wallets are suddenly $50.50 (reg. $168) and Steve Madden sandals are $23.70 (reg. $53.00).
Not to mention you can find Nike runners for just shy of 50% off — $44.93 a pair!
It's worth taking time to paw through the racks to find clothing clearance for yourself or your kids.
Resources & Links Mentioned
31 Lowe's Discount Tips That Would Make Joanna Gaines Proud
26 Hobby Lobby Hacks That'll Save You Hundreds
The Best Places to Buy Everything This Summer
How to Get Your Favorite Jeans for Up to 75% Off
DICK'S Sporting Goods Scorecard Rewards
The Children's Place Place Cash Rewards
19 Secrets to Getting The Children's Place Clothing for Almost Nothing
Your Ultimate Guide to All the Best Clothing Sales
The Smart Shopper's Guide to Every Store's Major Sale
31 Dick's Sporting Goods Hacks That'll Shock You
Target Back to School: Secret Savings on Clothes, School Supplies and More
36 Home Depot Hacks You'll Regret Not Knowing
25 Secrets Every Nordstrom Rack Lover Should Know